Check out the biggest breaking crypto market updates for today:
Gate.io Twitter Account Hacked To Promote Phishing Scam
Over the weekend, hackers took over the official Twitter account of crypto exchange gate.io, putting over 1 million users at risk of losing funds to a fraudulent Tether (USDT) giveaway.
The hackers changed the website URL in the Twitter bio from Gate[dot]io to gate[dot]com. The latter is a fraudulent exchange promoting a fake giveaway of 500,000 USDT. It requested users to connect their wallets to claim the rewards. Once a user connects their wallet to the fake website, the hackers will gain access to their existing funds and end up draining the assets.
Social media platform Twitter still serves as the most effective medium to reach the crypto community. As a result, the trend of hacking into official Twitter handles of verified accounts to promote scams is on the rise.
Blockchain investigator Peckshield also confirmed the ongoing attack as it detected the phishing website and alerted users about the risk of losing private keys.
Cointelegraph reached out to alert officials about the ongoing hack and is to hear from Gate.io about related remediation. In response, Gate.io confirmed with Cointelegraph that all users had been alerted about the compromise and released a post about the development, saying:
"We were made aware as soon as it happened, we have put out a notice and the account was locked down soon after being compromised."
Gate.io reassured investors by promising to provide full compensation for the losses suffered due to the incident.
At a time when crypto scams are set to hit all-time highs, investors are advised to cross-check the website URLs of the trading platforms to ensure the legitimacy of the offerings.
The United States Federal Bureau of Investigation (FBI) recently warned that crypto ATMs are gaining popularity among scammers to receive funds from victims.
According to the FBI, wire transfers, prepaid cards and crypto ATMs are being used by scammers to avoid being tracked by law enforcement:
"Many victims report being directed to make wire transfers to overseas accounts or purchase large amounts of prepaid cards. The use of cryptocurrency and cryptocurrency ATMs is also an emerging method of payment. Individual losses related to these schemes ranged from tens of thousands to millions of dollars."
As victims agree to pay up, the scammers ask victims to pay taxes over the original amount, "causing them (investors) to lose additional funds."
FTX-Funded PACs Plan Last-Minute Ad Blitz For Midterm Elections
A network of political action committees backed by key figures in the crypto industry is reportedly preparing for a last-minute ad campaign in support of congressional candidates who are pro-crypto.
The ad campaign which is set to begin in two weeks will see the PACs spending huge amounts of money. Particularly, Super PACs 'Web3 Forward' and 'Crypto Innovation' are reportedly planning to spend six figures on advertising for the midterm elections.
The groups plan to invest in TV ads supporting candidates from both sides of the aisle just days before the midterm Election Day, Nov. 8. The PACs aim to initially air their ads in California, Oregon Colorado and Texas, but are still assessing which candidates they will support.
During the primary season, Web3 Forward backed Democrats running for Congress, while Crypto Innovation supported Republicans, according to Federal Election Commission records.
Neither PAC has bought any campaign ads since September, when primary elections were coming to a close.
Out of the 11 House and Senate races Web3 Forward spent money in, nine of the group's preferred candidates won, according to data from the nonpartisan OpenSecrets. The congressional hopefuls included Pennsylvania Senate candidate John Fetterman, whom the PAC spent $212,000 supporting.
Crypto Innovation invested in seven races, and five of its preferred candidates prevailed. They included Ted Budd, theNorth Carolina Republican Senate nominee backed by former President Donald Trump.
The spending by the crypto PACs will add to a flurry of cash in what are expected to be the most expensive midterm elections ever: Already, $6.4 billion has flowed into TV, radio, and digital ads.
Democrats currently control the House and Senate by slim margins. The Senate is split 50-50 by party, and Democrats rely on Vice President Kamala Harris for tie-breaking votes.
A handful of State elections, including those in Georgia, Nevada, Pennsylvania and Arizona, will determine which party controls the Senate. Meanwhile, dozens of races across the country will shape whether Democrats can keep their eight-seat majority in the House.
Web3 Forward and Crypto Innovation are funded primarily by the GMI PAC, another super PAC that has seen massive donations from cryptocurrency leaders. The contributions include $2 million in January from FTX CEO Samuel Bankman-Fried.
Records show the group also got $1 million each in May from Marc Andreesen and Ben Horowitz, two managing partners at venture capital firm Andreessen Horowitz. The firm's portfolio includes cryptocurrency companies.
Former Trump White House communications director and SkyBridge Capital founder Anthony Scaramucci donated $100,000 to Crypto Innovation in March, according to an FEC filing.
GMI PAC's founding board of directors includes CMS Holdings co-founder Dan Matuszewski, Framework Ventures co-founder Vance Spencer, and FTX Digital Markets CEO Ryan Salame, according to crypto news outlet The BLock.
Ripple's Director of Engineering Leaves Firm As XRP Turns 10
Nik Bougalis, Ripple Labs' director of engineering is reportedly leaving the company after nearly 10 years in order to chart new horizons, which he chose not to reveal.
Bougalis tweeted,
"My decade-long journey at Ripple has been a fantastic (if exhausting and all-consuming) one. I got to work on a project that I love, towards a goal I believe in. But that journey will be coming to an end in a few weeks."
At Ripple, Bougalis oversaw a series of developments to the ledger's code base including the introduction of NFTs, which is scheduled to go live in November.
Bougalis' departure comes as Ripple begins testing an XRP ledger sidechain that's compatible with Ethereum-based smart contracts. This would allow developers familiar with the much larger Ethereum Virtual Machine (EVM) software to deploy their code onto Ripple.
Although unrelated to Bougalis' position at Ripple, the company continues its two-year fight with the Securities and Exchange Commission (SEC) on whether XRP is considered a security.
Bougalis has not indicated where he will be heading next, but says he will not be joining another blockchain or Web3 company.
After the announcement on the morning of October 24th, XRP was trading at $0.45, down 0.38% on the day.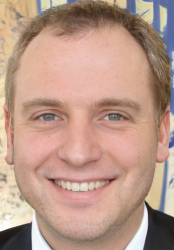 Latest posts by Luke Baldwin
(see all)