Check out the biggest breaking crypto market updates for today:
JP Morgan Chase Is Closing Kanye West's Bank Accounts For Repeating The Wrong Narrative
Following his recent controversial comments at Paris Fashion Week and on Fox News, American bank JPMorgan Chase has given Rapper Kanye West (known by his legal alias "Ye") an ultimatum:
He must switch bank accounts before November 21st of this year or his funds will be seized.
The news was made public by conservative figure Candace Owens, who was seen with Ye last week at a Paris fashion event where they were both wearing "White Lives Matter" t-shirts. The mainstream media reacted to the shirts with shock, horror, and rage – calling them extremists and white supremacists even though they are both black.
Owens posted on Twitter late Wednesday night, October 12, an official note from JPMorgan Chase Bank which announced the end of their commercial relationship with Ye.
She wrote,
"I was told there was no official reason given, but they sent this letter as well to confirm that he has until late November to find another place for the Yeezy empire to bank."

Here's the letter she posted: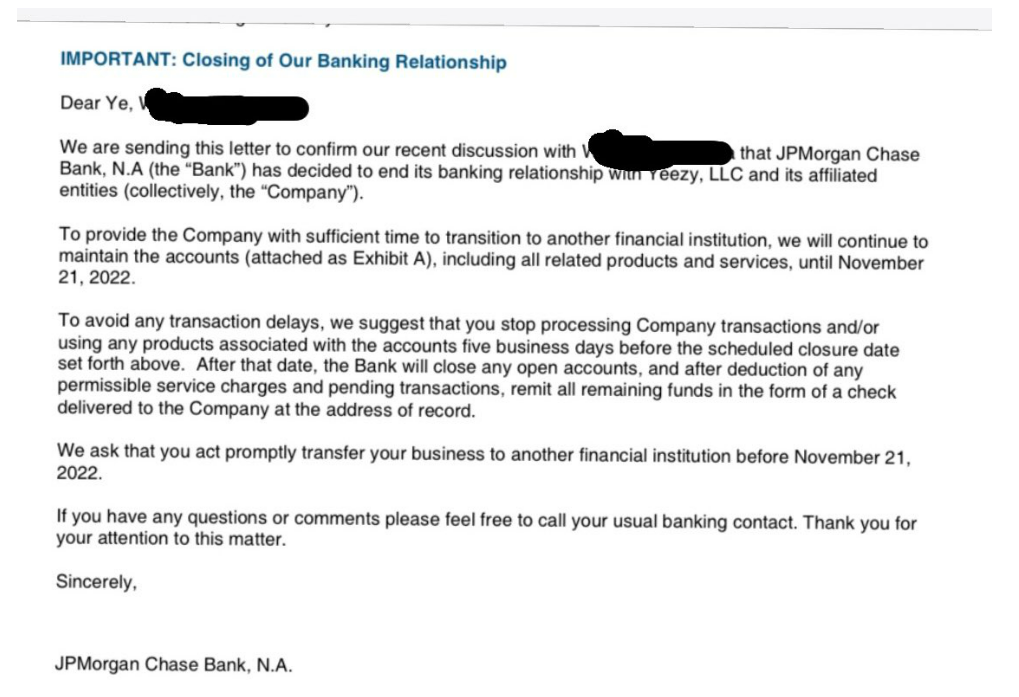 This letter not only follows the controversy at Paris Fashion Week, it also follows a recent Fox News interview where Ye (aka Kanye West) criticized the establishment narrative on everything from politics, to race, to abortion, and religion.
During the interview, Ye disclosed that he was told in advance by dozens of sources that he would be targeted and smeared if he chose to express the views he did.
When asked why he thought his "White Lives Matter" shirt was so controversial, Ye responded:
"Because the same people that have stripped us of our identity and labeled us as a color have told us what it means to be black, and the vernacular that we're supposed to have."
This is in stark contrast to the reason most establishment media outlets gave for why Kanye wore the shirt – most gave the excuse that he was "bipolar" and "off his meds".
Kanye also said of most celebrities and social media influencers:
"These people were practically made in a laboratory. And what they do is, for people who have some form of influence, they have people around them at all times telling them what to be afraid of. Not what to do or say, it's specifically what to be afraid of. And if you have a person that isn't afraid of them – you know, like a Russel Brand or Candace Owens – it's not that we have to agree, but they're not afraid to state what their opinion is."
Ye said unafraid people of influence are threats to the establishment. And it appears he was right.
Following Ye's Fox News interview, Twitter and Facebook banned his social media accounts and he received the above letter from JPMorgan Chase, ending their banking relationship.
Owens followed up her tweet exposing the letter with:
"We have reached extremely frightening times in this country. Who are [sic] what has landed us into these times is an ongoing discussion which I would like to open up."
She has a point: whether you agree or disagree with Kanye's political views, it would be wise to support his right to express them without retaliation from the establishment.
One Twitter user wrote: "People who say this is good don't understand what a dangerous precedent this is setting. Binding banking to political beliefs is the beginning of a totalitarian system."
The crypto community has noticed the event, too: one of the top posts on the r/bitcoin subreddit read:
"If you need another reason to be in bitcoin and out of banks, here it is."
Crypto Think Tank Coin Center Sues US Treasury Over Tornado Cash Sanctions
Crypto Policy Think Tank "Coin Center" has reportedly filed a lawsuit against the U.S. Treasury Department and its sanctions watchdog the Office of Foreign Asset Control (OFAC), over its Tornado Cash sanctions.
This is the second lawsuit to be filed against the Treasury on the matter.
As per the brief, Coin Center argues the Treasury's August sanctioning of the transaction mixer exceeds its statutory authority on account of Tornado Cash being used to complete functions that do not include "any property in which any foreign country or a national thereof has any interest."
The suit further reads,
"Americans use Tornado Cash unilaterally to protect their own property. [Treasury's] defiance of this statutory element assumes an authority that would give them virtually unlimited control to regulate the American economy."
OFAC sanctioned Tornado Cash last August, claiming North Korean hackers had laundered hundreds of millions of dollars worth of crypto through the mixer since its launch. Something like 20% of Tornado Cash's overall transaction volume was tied to one hack or another, the federal government alleged.
The crypto industry has opposed the move, pointing to the fact that OFAC does not normally sanction software and the fact that Tornado Cash does not have any central operator.
There are legitimate uses for individuals to use privacy-enhancing tools like Tornado Cash, the suit claimed, and OFAC's sanctions against the privacy mixer – which works by pooling funds to obfuscate the sender of any given transaction – mean that these individuals now effectively expose their entire transaction history to anyone looking at the network data.
"An order effectively requiring Defendants to decriminalize use of the 20 Tornado Cash addresses would allow Plaintiffs to conduct their legitimate activities with some measure of anonymity, use their preferred software tool without fear of penalties, and engage in important expressive associations," the suit said.
"Judicial relief would also serve the public interest by averting harm to Tornado Cash users who are United States persons, to Ethereum as a freedom and privacy enhancing technology, and to the important sector of the economy that depends on Ethereum."
Treasury Secretary Janet Yellen and OFAC Director Andrea Gacki are also named as defendants.
Patrick O'Sullivan, a Florida-based software developer, David Hoffman, a New York-based investor, and an unnamed Ukraine supporter are other plaintiffs tied to the suit.
Hoffman was "dusted," meaning someone sent him a small amount of ETh after Treasury sanctioned Tornado Cash, the suit claimed.
"Ethereum users like Mr. Hoffman have no ability to reject incoming transfers. So the criminalization of Tornado Cash empowered someone else to implicate Mr. Hoffman and force reporting obligations on him by causing him to receive an asset from a sanctioned entity."
Coin Center filed another lawsuit against the Treasury earlier this year, alleging that a tax reporting rule enacted into law last year as part of a broader infrastructure bill is "unconstitutional."
The provision requires taxpayers to collect and report personally identifiable information, such as social security numbers, if they receive over $10,000 in cryptocurrency.

The federal government has until Nov 7, 2022 to file a response to Coin Center's lawsuit.
Offchain Labs Acquires Ethereum Software Team Prysmastic Labs
According to a blog post published today by Offchain Labs, the firm has acquired Prysmatic Labs, one of the core development teams behind the Ethereum Merge.
Notably, Offchain Labs is the developer of the Ethereum layer-2 network Arbitrum. The acquisition was made with the goal to align both teams on their missions to further scale Ethereum.
Offchain Labs CEO Steven Goldfeder stated,
"Prysmastic Labs possesses an incredibly talented team of engineers, and their dedication to the Ethereum community shows via their best-in-class product that is used broadly in the Ethereum ecosystem."
While Offchain Labs continues to develop its Ethereum scaling solutions Arbitrum and Arbitrum Nova, Prysmastic Labs will continue to concentrate on its Prysm computer software client under the umbrella of Offchain Labs.
Both companies remain focused and aligned on building infrastructure to scale the Ethereum network. It was one of the reasons Prysmatstic Labs co-founder Raul Jordan stated that this acquisition "made perfect sense."
Both companies are "fully incentive-aligned with the success of Ethereum," Jordan further stated. He believes that bringing both teams together under one roof will benefit the aligned mission of both teams in scaling Ethereum.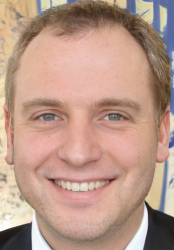 Latest posts by Luke Baldwin
(see all)