Check out the biggest breaking crypto market updates for today:
Crypto Broker Genesis Trading Halts Withdrawals at Lending Unit
On the 16th, institutional crypto lender Genesis Trading announced that it was temporarily "suspending redemptions and new loan originations in [its] lending business" due to facing "abnormal" levels of withdrawals that exceed its current liquidity.
It cited "unprecedented market turmoil" resulting from the collapse of troubled crypto exchange FTX as the reason for the abnormal level of withdrawals. The company's website states that as of the end of the third quarter of 2022, it had active loans totaling $2.8 billion.
Genesis is looking into solutions for the lending unit, including finding a source of fresh liquidity and purposes to share its plan with clients next week.
The troubles at Genesis are the latest sign that the failure of FTX and Alameda Research is sending shockwaves across the crypto industry.
On Wednesday, the US House of Representatives financial services committee announced a hearing into the collapse of FTX and its impact on the crypto market.
New York-based Genesis allows clients to lend out their coins in exchange for yields of as much as 10%, while also providing similar services for groups including exchanges operator Gemini, which is run by twins Tyler and Cameron Winklevoss. Genesis also lends digital coins to institutions such as hedge funds and family offices.
Genesis' parent company, Digital Currency Group, which is owned by billionaire Barry Silbert, said the suspension of withdrawals "was made in response to the extreme market dislocation and loss of industry confidence caused by the FTX implosion".
The suspension has also prompted concerns about its business partners. Gemini on Wednesday said it was "aware" of the problems facing Genesis.
Gemini and Genesis are partners on a product that pays customers interest for lending out their crypto assets. Genesis is the main lending partner.
"We are working with the Genesis team to help customers redeem their funds… as quickly as possible," Gemini said.
Another Genesis partner, crypto platform Luno, said its customers' assets were safe, adding it had "taken steps" to ensure customers could not access their funds "in the event withdrawals from Genesis are not possible."
Genesis said it had hired "the best advisers in the industry to explore all possible options" and would deliver a plan for the lending business next week. It added it was "working tirelessly" to resolve issues, including "sourcing new liquidity."
Genesis said last week it had $175M in funds stuck on FTX. On Friday, just hours before Bankman-Fried's exchange filed for bankruptcy, its parent company injected $140M into Genesis – the second lifeline DCG has given Genesis this year.
Genesis was hit hard by the failure of Three Arrows Capital, the Singapore-based crypto hedge fund that filed for bankruptcy in July when its bets on bitcoin and other cryptocurrencies went bad. Court documents showed that Genesis had lent Three Arrows $2.4B. Over the summer, DCG assumed Genesis's entire $1.2B claim against Three Arrows.
Genesis's trading and custody businesses are fully operational, Genesis said, adding that its trading arm was "independently capitalised and operated – and separate from all other Genesis entities."
DCG, which also owns crypto asset manager Grayscale Investments and news site CoinDesk, said there was "no impact on the business operations of DCG and our other wholly owned subsidiaries."
Tom Brady, Larry David, and Other Celebrities Named In FTX Class-Action Lawsuit
Crypto investors in the U.S. have filed a class-action suit against FTX's former CEO Sam Bankman-Fried and the company's host of paid celebrity promoters including NFL quarterback Tom Brady, comedian Larry David, Tennis player Naomi Osaka and NBA team the Golden State Warriors.
The suit was filed in Miami on Tuesday by Oklahoma resident and FTX YBA holder Edwin Garrison on behalf of other account holders.
It accused the defendants of fraudulently promoting FTX yield-bearing accounts (YBAs) and called for unspecified damages and a jury trial in the case.
The complaint states,
"The Deceptive FTX Platform maintained by the FTX Entities was truly a house of cards, a Ponzi scheme where the FTX Entities shuffled customer funds between their opaque affiliated entities, using new investor funds obtained through investments in the YBAs and loans to pay interest to the old ones and to attempt to maintain the appearance of liquidity."
Before its failure, FTX was known to use high-profile Hollywood and sports celebrities to promote its products. It had the naming rights to a Formula One racing team as well as a sports arena in Minami. Its commercials featured "Seinfeld" creator Larry David, as well as Brady, the star quarterback of the Tampa Bay Buccaneers, basketball players Shaquille O'Neal and Stephen Curry, and tennis star Naomi Osaka.
The lawsuit filed late Tuesday alleges that these sports and TV celebrities brought instant credibility to FTX, and should be held just as culpable as Bankman-Fried.
Class-action attorney Adam Moskowitz pointed to previous cases where the U.S. government fined celebrities Kim Kardashian and Floyd Mayweather for promoting crypto.
"The crypto industry needed celebrity endorsers to get any credibility," Moskowitz said.
The plaintiff in the case is Pierce Robertson, who is also involved in a case involving Voyager Digital, another failed cryptocurrency company that was endorsed by Dallas Mavericks owner Mark Cuban.
Voyager Digital failed for bankruptcy protection this summer, but FTX had pledged to buy Voyager's assets for $1.4 billion, which would have led to financial relief for Voyager's depositors. FTX's failure now puts its aid to Voyager in question.

The lawsuit was filed in the Southern District of Florida. Moskowitz is the attorney representing the victims in the collapse of a Florida residential tower in Surfside, Florida.
Well-known attorney David Boies, who represented the U.S. government against Microsoft in the 90s and Al Gore in the 2000 election, is also named as an attorney on the case.
The Miami Heat were starting a four-game road trip in Toronto on Wednesday. Forward Udonis Haslem, also named in the lawsuit, is away from the team for personal reasons.
Abu Dhabi Grants Binance Financial Services Permission, Economist Hits Out
Abu Dhabi's Global Market (ADGM) and Financial Services Regulatory Authority have granted crypto exchange Binance regulatory approval to operate as a crypto custodian for institutional clients.
Binance had previously secured an in-principle approval from ADGM in April 2022 to operate as a broker-dealer for cryptocurrencies and digital assets.
However, not everyone has taken the news positively. Economist and cryptocurrency critic Nouriel Roubini called the exchange a "walking timebomb" stating,
"Unfortunately, this is an ecosystem that is totally corrupt. I think this is a lesson from the last few weeks, and I think these people should be out of here. I can't believe [Zhao] and Binance has a license to operate in the UAE."
The news came after Binance founder and CEO Changpeng Zhao attended the Abu Dhabi Finance Week. Zhao appeared onstage alongside Galaxy Digital CEO and investor Mike Novogratz at the event for a wide-ranging conversation that touched on the aftermath of the ongoing FTX bankruptcy.
Binance had already gained a foothold in Abu Dhabi after being granted in-principle approval from ADGM in April 2022. This gave the exchange the go-ahead to operate as a broker-dealer for cryptocurrencies and digital assets.
While Binance appears set to begin offering its exchange services to customers in Abu Dhabi, the announcement had its detractors. Chief among those was economist and cryptocurrency critic Nouriel Roubini, who made disparaging remarks about the regulatory clearance afforded to Binance during a separate panel at the Abu Dhabi Finance Week.
Binance had an intriguing role to play amid the implosion of Sam Bankman-Fried's FTX empire. Zhao held initial talks with his competitor to bail out FTX, but closer scrutiny of the company's financials saw the deal fall through before FTX filed for bankruptcy.
Binance then led a movement followed by a number of prominent exchanges to provide proof-of-reserves of cryptocurrency asset holdings. The exchange has also set up an industry recovery fund aimed at providing financial support to exchanges and projects facing liquidity issues.
Binance has received a number of regulatory approvals in different countries in 2022, with Dubai giving the all-clear in September 2022. This followed the exchange receiving regulatory clearance to offer its services in Bahrain in March 2022.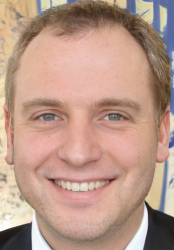 Latest posts by Luke Baldwin
(see all)