Check out the biggest breaking crypto market updates for today:
Turkish Law Enforcement Investigating FTX's Local Arm Following Wipeout
According to an official notice published by Turkey's Financial Crimes Investigation Agency yesterday, the agency is investigating FTX.com and will look into people, institutions, banks and crypto service providers related to FTX including local subsidiary FTX Turkey.
According to reports, FTX Turkey is working to process customer withdrawals and has provided a Google Form for users seeking to receive their funds. It requested users to share their International Bank Account Number to proceed with the refund process. However, the delivery date has not been specified by the exchange.
FTX Turkey stated,
"Even during the technical difficulties caused by FTX.com, the FTX TR [Turkey] team worked hard not to victimize the users by giving their best and continues to work. Sharing transparent information about the process from its social media accounts, we manage this process professionally and in a way that does not harm its users."
With the investigation, Turkey – a fast-growing crypto market – is joining jurisdictions such as the U.S. and the Bahamas (where the global business had its headquarters), in probing Sam Bankman-Fried's crypto enterprise. News of investigations comes after a tumultuous week filled with a failed acquisition deal from Binance, rumors, a voluntary petition for insolvency and a $600 million hack of the embattled exchange.
Many of the 134 entities listed in the FTX bankruptcy petition learned of the filing at the same time as the public did.
One source told CoinDesk at the same time that FTX Turkey was hit particularly hard, with staff in Turkey having put their paychecks and bonuses into the company because of a distrust of local banks and inflation of the Turkish lira.
Wallet Supposedly Linked To Vitalik Buterin Sells Off $3.75 Million In Ethereum
According to reports, a wallet known to be associated with Ethereum founder Vitalik Buterin has sold 3,000 ETH over the weekend, converting the ETH into U.S. Dollar-backed stablecoins via three separate transactions done on the decentralized exchange Uniswap.
The moves were made in the middle of the night early Saturday morning, less than 24 hours after news broke that FTX and its affiliated entities had filed for Chapter 11 bankruptcy in the U.S.
Varying amounts of the 3,000 ETH were swapped into USDC, USDT, DAI, and warped Bitcoin–but ultimately, the entire amount was converted into USDC.
The transactions all occurred around 3am Argentina time on Saturday.
The ether was sold at a price of $1,254.95, placing the value of the total outflow at about $3.8 million. However, prominent Ethereum developer Evan Van Ness has responded to reports of these transactions by saying that Buterin told him the wallet in question was not his.
The assertion prompted a debate among other blockchain watchers to weigh in, one noting that the wallet had received many transactions from a "doxx'd address" of Buterin's before, and another citing transactions on Etherscan with a wallet known as "vb2."
"The VitalikAddress Truthers confound me," Van Ness replied. "Either I'm lying or Vitalik is lying. If I'm lying, Vitalik can easily disprove it with a tweet. I lose a lot of reputation. If Vitalik is lying, it's the dumbest thing in the world to lie about."
Buterin, who attended LaBitConf in Argentina last week, expressed his disapproval of FTX CEO Sam Bankman-Fried hours before the funds were moved.
"This year we've seen a huge number of things that break because they have a model which is fundamentally bad," Buterin said when asked about FTX and other crypto companies that have collapsed this year.
Buterin also linked Bankman-Fried to a "1930s dictator," implying that he saw a cult of personality of sorts surrounding the now-infamous executive.
After the transfer, the wallet in question still has nearly $3.3 million worth of ETH in it. The wallet also owns the Ethereum Name Service domain name iiiiiiii.eth, according to its OpenSea profile. It received the ENS name via transfer back in May from a wallet that may also belong to Buterin.
But that's not all. Another wallet connected to Vitalik.eth – which Buterin uses as his Twitter name – recently moved 180 ETH ($286,000 at the time) and about $8,500 of USDT to another wallet and then to a Kraken exchange account last week.
Ethereum's price has fallen roughly 21% in the past week, following news of FTX's financial troubles and subsequent collapse which affected the broader crypto market.
The second-largest cryptocurrency by market cap is now worth about $1,234, according to CoinGecko price data, down from $1,605 the previous week.
Sam Bankman-Fried Posts Weird Cryptic Tweets After FTX Collapse
Sam Bankman-Fried, the founder and former CEO of FTX, has posted a series of cryptic tweets that had crypto Twitter going crazy with speculation on the message behind the tweets.
The tweets which were posted over a period of 24 hours. They spelled out the words "What HAPPENED" and the thread ended with the message: "NOT LEGAL ADVICE. NOT FINANCIAL ADVICE. THIS IS ALL AS I REMEMBER IT, BUT MY MEMORY MIGHT BE FAULTY IN PARTS."
When asked about his cryptic tweets in a Nov. 14 interview with the New York Times, Bankman-Fried stated, "It's going to be more than one word. I'm making it up as I go." When asked why he said "I don't know," and added "I'm improvising. I think it's time," seemingly refusing to explain further.
The cryptic tweets have sparked various theories, such as Sam Bankman-Fried attempting to use the tweets to plead insanity, a secret message to a former co-worker, and that he is simply trolling the internet.
Many users replied to SBF's tweets with angry retorts: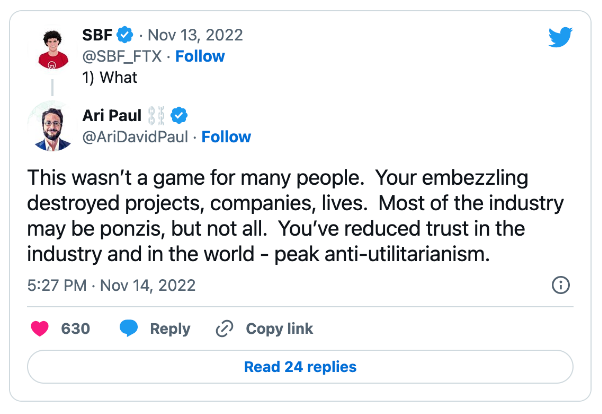 Bankman-Fried's estimated $16 billion fortune was obliterated in one of the greatest wealth wipeouts the world has ever seen last week. At his peak, the 30-year-old was worth $26 billion.
The collapse of FTX is already drawing comparisons to Lehman Brothers, Enron and Bernie Madoff's Ponzi scheme.
The most damning evidence against Bankman-Fried and FTX was the fact that Sam donated billions of dollars to US Democratic political candidates – in fact he was the second biggest donor to the Democrats.
Some users also noted that Ukraine had put billions of dollars into FTX… after the US government gave billions of taxpayer dollars to Ukraine.
Which sparked conspiracies and memes all over Twitter that looked like this: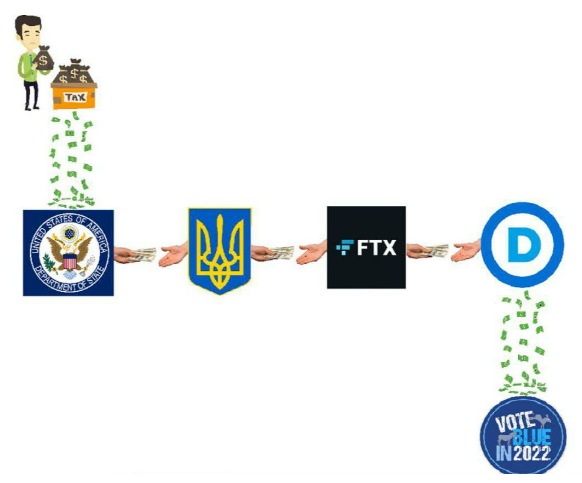 If that's not enough, it later came to light that FTX had a line on their balance sheet called "Trump lose."
Whatever conclusion you may draw from that, it's a pretty ugly thing when you see a fraud of this size having played out – and no regulators were ever there to prevent it. Despite the US treasury having been so hard on sanctioning Tornado Cash, and interpol issuing a red notice for Do Kwon.
Over the weekend, the New York Times came out with what many people called a "puff piece" on Bankman-Fried. In the first couple paragraphs of the interview The New York Times made sure to highlight the fact that despite being at the center of one of the largest destructions of wealth ever seen, Bankman-Fried was still "getting enough sleep."
Finally, late November 15th, Bankman-Fried continued the Twitter thread he left everyone hanging on: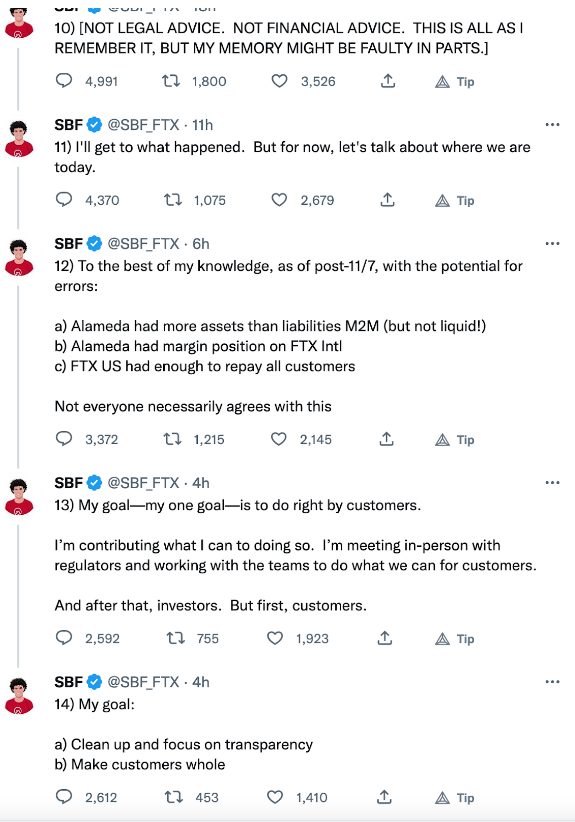 Let's hope he sticks to his word.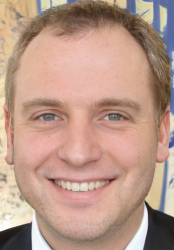 Latest posts by Luke Baldwin
(see all)