Check out the biggest breaking crypto market updates for today:
Interpol Issues Red Notice For Terra Founder Do Kwon While He "Writes Code In His Living Room"
According to South Korean Prosecutors, Interpol issued a red notice for Terra founder Do Kwon on Sep 26. The red notice is a request to law enforcement agencies worldwide to locate and arrest Do Kwon.
The notice was issued just over a week after South Korean Prosecutors placed the request to Interpol on Sept 19. It was made after Singaporean authorities stated that Kwon was not residing in the country and South Korean officials had no lead on his whereabouts.
The collapse of the Terra cryptocurrency (LUNA) and the TerraUSD (UST) stablecoin wiped out investors' $40 billion dollars, which prompted an uproar that caused prosecutors to launch investigations into Kwon and his colleagues.
The prosecutors said Monday he faces charges in South Korea.
The notice against Kwon may set the wrong precedent for the crypto industry and hurt innovation – especially if Kwon didn't knowingly defraud investors and customers, several industry executives have said in recent weeks:
"Having met Do Kwon … leaving how he is a person aside … I think the criminalization of Terra is a dangerous precedent," said Haseeb Qureshi, managing partner of crypt investment fund Dragonfly, on a recent podcast.
However, Qureshi cautioned that he, like many others, doesn't know all the details.
South Korean prosecutors have doubled down on their probe into Kwon in recent weeks, claiming earlier this month that the entrepreneur was "not cooperating," and was "obviously on the run," a day after Kwon indicated otherwise. That's when they requested Interpol, the global police organization, issue a red notice for Kwon on the 19th.
Kwon, whose whereabouts are currently unknown, said Monday via a Tweet that he is not hiding from South Korean authorities, but rather writing code in his living room:
He added in a later tweet that he was "making zero effort to hide."
Terraform Labs' UST stablecoin and cryptocurrency Luna dramatically imploded in May after investors lost faith in the efficacy of its fundamentals. Kwon, with approval from the Terraform community, revived the crypto project but has avoided the algorithmic stablecoin component for now.
The depegging of TerraUSD (UST), the firm's previous stablecoin, prompted the crash of Luna tokens as they were intertwined.
The crash of the LUNA token also contributed to the wipeout of Three Arrows Capital, who was once a high-profile crypto hedge fund. The demise of the fund severely impacted a number of crypto lenders, including BlockFi, from whom it had borrowed billions of dollars.
South Korea issued an arrest warrant within the country for Kwon earlier this month, a move that made many investors sell their positions in the revived Luna token.
"We are in the process of defending ourselves in multiple jurisdictions – we have held ourselves to an extremely high bar of integrity, and look forward to clarifying the truth over the next few months," Kwon said in a tweet this month.
The morning of the 27th, the day after the red notice was issued by Interpol, South Korean authorities started looking to freeze $67 million dollars worth of bitcoin (3,313 BTC) tied to Kwon.
The bitcoin was transferred to the digital wallets of crypto exchanges OKX and KuCoin shortly after the arrest warrant was issued for Kwon in South Korea on September 14th.
KuCoin has frozen 1354 BTC ($27 million) transferred to the platform, but OKX is allegedly "ignoring the prosecution's request to freeze assets" according to CoinDesk Korea's report.
Kwon continues to maintain that he is not on the run.
FTX Wins Auction For Bankrupt Crypto Broker Voyager Digital's Assets
Crypto exchange FTX, founded by CEO Sam Bankman-Fried, has won the bidding war to buy the assets of Voyager Digital Ltd.
FTX reportedly won with a bid valued at $1.422 billion dollars.
The purchase consists of all Voyager cryptocurrency valued at $1.311 billion at current market price and an additional consideration worth about $111 million in incremental value, according to Voyager's press release.
The purchase agreement between Voyager and FTX will be presented for approval to the U.S. Bankruptcy Court for the Southern District of New York on Oct. 19, and will also need creditor approval before it can proceed.
The winning bid was first reported over Twitter by a former Wall Street Journal reporter whose yet-to=-be-launched media publication has backing from FTX Founder and CEO Sam Bankman-Fried.
Hoffman said the bid is ultimately worth $50 million after stripping away the crypto assets, the bulk of which will be returned to creditors.
"FTX US's bid maximizes value and minimizes the remaining duration of the Company's restructuring by providing a clear path forward for the Debtors to consummate a chapter 11 plan and return value to their customers and other creditors," the Voyager press release stated.
Voyager also said FTX US will allow customers to trade and store their crypto assets after chapter 11 case closed though the FTX US platform.
Voyager's own claims on unpaid loans it lent to bankrupt hedge fund Three Arrows Capital will remain as part of the bankruptcy estate, which will distribute any available recovery. Voyager lent at least $650 million dollars to Three Arrows.
The debtor firm said after considering both potential sales and standalone reorganization, the company determined FTX's offer presented the best alternative for Voyager stakeholders.
The auction follows three months of bankruptcy proceedings since the crypto lender filed for Chapter 11 on July 5. At its bankruptcy filing, the company held $1.3 billion dollars in customer assets on its platform spread across 3.5 million users.
During this time, Bankman-Fried has worked to bail out distressed crypto businesses facing liquidity problems as the value of cryptocurrencies plummeted in May and June.

At the beginning of July, FTX closed a deal with BlockFi, another financially hurt crypto lender, for up to $680 million dollars after the firm's series D funding round valuation stood at $3 billion dollars in March 2021.
The deal followed FTX acquisitions of clearing firm Embed and Canada-based trading platform Bitvo.
In late July, FTX and its sister company Alameda Research, which is also majority owned by Bankman-Fried, offered a joint proposal to Voyager Digital to buy its customer assets. But Voyager turned down the offer, calling it a "low-ball bid" that made "several false and misleading assertions."
At the beginning of August, Voyager paid out $270 million from cash accounts the court deemed not part of the bankruptcy estate. Earlier this month, Alameda also agreed to return a $200 million dollar loan borrowed from Voyager before the end of September.
Outside of the press release, neither FTX nor Voyager would offer further comment by press time.
The transaction agreement for FTX's bid, which will be subject to a creditor vote, will be presented for approval to the United States Bankruptcy Court for the Southern District of New York on Wednesday, October 19, 2022.
Walmart's New Roblox Metaverse Tells Kids Where To "Find All The Best Toys"
Retail giant Walmart has announced the launch of two new experiences called 'Walmart Land' and 'Walmart's Universe of Play' in the Roblox app. This is just the latest in the long list of companies looking for new ways to market their brands using metaverse platforms.
The experiences are expected to allow consumers to experience games and activities in the metaverse, including a fashion show and a Jurassic Park-themed egg-collecting game. Players will also have the chance to collect in-game coins and tokens, prizes and "verch" (virtual merch).
William White, Walmart U.S.' chief marketing officer, stated:
"Roblox is one of the fastest growing and largest platforms in the metaverse, and we know our customers are spending loads of time there. So we're focusing on creating new and innovative experiences that excite them, something we're already doing in the communities where they live, and now, the virtual worlds where they play."
A metaverse rollout was expected from Walmart for some time. While there are plenty of unofficial Walmart-themed games on Roblox, the company itself filed several patents for virtual goods and currencies in December 2021.
Almost a quarter of the 52.2 million daily active users on Roblox in Q2 2022 are under the age of 13, according to the information provided at sign-up. It appears Walmart is trying to tap into this young user base, as the retailer's Universe of Play tells players "making a toy wish list has never been this fun! Find them all at Walmart."
Keen eyes might also notice the in-game advertising. Having historically struggled to monetize beyond selling virtual goods, Roblox announced plans earlier this year to debut ads in 2023. It said it would test ads with certain developers and brands by the end of this year as it searched for ways to "gently" incorporate more advertising.
Walmart might be one of these test cases. Its in-game billboards – which are marked as advertisements – tell the players they can "find all the best toys" in their stores.
Bringing advertising onto a platform so popular with children has led to some controversy. Roblox has faced criticism for its ability to safeguard its users, and as the company attempts to find new streams of revenue via advertising, groups such as U.S.-based non-profit Truth in Advertising have raised concerns about deceptive marketing practices.
In April the group filed a complaint with the Federal Trade Commission claiming Roblox had "completely shirked its responsibility" in following advertising laws. The complaint identified Netflix, Nike, Hasbro and Mattel as well.
Another complaint was also sent to the Advertising Standards Authority in the UK in August.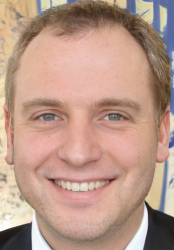 Latest posts by Luke Baldwin
(see all)