Check out the biggest breaking crypto market updates for today:
Bitcoin Miner Core Scientific Files For Chapter 11 Bankruptcy Protection
Core Scientific, one of the largest bitcoin miners by computing power, has filed for Chapter 11 bankruptcy protection in Texas due to falling revenue and low BTC prices.
According to the U.S. Bankruptcy Court filing for the Southern District of Texas, the company estimates its assets and liabilities at between $1 billion and $10 billion.
The filing also reveals that the company has about 1,000-5,000 creditors, with the largest unsecured claim coming from investment bank B. Riley. Core Scientific, which accounts for about 10% of computing power on the bitcoin network, is reportedly still generating positive cash flow, but that cash was not sufficient to repay the financing debt owed on equipment it was leasing.
The mining process involves powering data centers across the country, packed with highly specialized computers that crunch math equations in order to validate transactions and simultaneously create new tokens.
The process requires expensive equipment, technical know-how, and a lot of power.
Core's market capitalization had fallen to $78 million as of the end of trading Tuesday, down from a $4.3 billion valuation in July 2021 when the company went public through a special purpose acquisition vehicle, or SPAC. The stock has fallen more than 98% in the last year.
The company is still generating positive cash flow, but that cash is not sufficient to repay the financing debt owed on equipment it was leasing. The company will not liquidate, but will continue to operate normally while reaching a deal with senior security noteholders, which hold the bulk of the company's debt.
Core Scientific had previously said in a filing in October that holders of its common stock could suffer "a total loss of their investment," but that may not be the case if the overall industry recovers. The deal cut with Core's convertible note holders is structured in such a way that if, in fact, the business environment for bitcoin improves, common equity holders may not get totally wiped out.
THe company also disclosed that it would not make its debt payments coming due in late Oct. and early Nov. – and said that creditors were free to sue the company for nonpayment.
Core, which primarily mints bitcoin, has seen the price of the token drop from an all-time high above $69,000 in Nov. 2021, to around 16,800.
That loss in value, paired with greater competition among miners and increased energy prices have squeezed its profit margins.
Crypto lender Celsius, which filed for bankruptcy protection in July, was a Core customer. When Celsius' debts were wiped out during its bankruptcy proceedings, that put a strain on Core's balance sheet, in yet another example of the contagion effect rippling across the crypto sector this year.
Core Scientific isn't alone in its struggles, either.
Compute North, which provides hosting services and infrastructure for crypto mining, filed for Chapter 11 bankruptcy in September, and another miner, Marathon Digital Holdings, reported an $80 million exposure to Compute North.
Meanwhile, Greenidge Generation, a vertically integrated crypto miner, reported second quarter net losses of more than $100 million in August and hit "pause" on plans to expand into Texas. And shares in Argo plunged 60% after its announcement on October 31 that its plan to raise $27 million with a "strategic investor" was no longer happening.
The bitcoin network, however, is built to be resilient. It can survive a majority of current miners going offline without a hiccup.
Central African Republic Delays  Listing Sango Coin To 2023
According to an announcement made by the Central African Republic (CAR), the crypto exchange listing of its national cryptocurrency, the 'Sango Coin,' will be delayed until the first quarter of 2023 due to current market conditions and marketing reasons.
Sango Coin is set to be used as part of the country's plans to tokenize its mineral resources.
Market conditions and seasonal factors such as the holiday season were cited as reasons for the delay by moderators of the project's Telegram channel.
CAR's President Faustin-Archange Touadéra announced Sango Coin as the country's national crypto in July.
The cryptocurrency's public sale also began in July, with 200 million Sango Coins available for purchase at a price of $0.10. Investors have been promised a 5% return of their stake at the moment of listing.
Sango Coin will run on a bitcoin sidechain. This sidechain is reportedly similar to Blockstream's Liquid Network with a two-way peg mechanism.

Bitcoin and Sango Coin will be the tokens in the peg architecture.
CAR became the first African nation, and the second in the world, to adopt bitcoin when it recognized BTC as legal tender in April.
Sam Bankman-Fried Signs Extradition Papers In The Bahamas
According to Bahamas Acting Commissioner of Corrections Doan Cleare, Sam Bankman-Fried (SBF) signed surrender documents yesterday that would see him handed over to the Federal Bureau of Investigation and flown to the United States to face criminal charges.
SBF is expected to also sign a separate set of papers finalizing his waiver of rights to fight extradition at the Magistrate's Court in Nassau on Wednesday.
The former CEO of FTX – indicted on charges of defrauding investors in the crypto exchange of $1.8 billion – signed the paperwork around noon on Tuesday, according to Doan Cleare, The Bahamas' acting commissioner of Corrections.
In court last week, Bankman-Fried said he would fight his extradition to the US while seeking release on bail from Bahamian prison.
However, a judge ruled he was a flight risk and ordered him remanded at the island nation's notorious "rat-and-maggot-infested" Fox Hill prison, where he has been held since his arrest on December 12.
After an apparent change of mind over the weekend, Bankman-fried appeared before a Bahamian court Monday to begin the extradition process – to the surprise of his own local lawyer.
"Mr. Bankman-Fried wishes to put the customers right, and that is what has driven his decision," Jerone Roberts, the former CEO's Bahamian defense attorney, told reportes Monday.
The lawyer added that Bankman-Fried had made the decision against "the strongest possible legal advice."
If Bankman-Fried's extradition proceeds, his case will be taken up in federal court in the Southern District of New York – and he will likely be transferred to the same federal prison where Jeffrey Epstien died.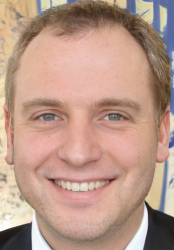 Latest posts by Luke Baldwin
(see all)