Check out the biggest breaking crypto market updates for today:
U.S. Prosecutors Scrutinize Political Donations By Sam Bankman-Fried And Allies
According to a report by the New York Times, U.S. federal prosecutors have reached out to top members of the Democratic Party seeking more information about political donations made by former FTX CEO Sam Bankan-Fried and the two executives he worked with.
A prosecutor from the U.S. Attorney's Office for the Southern District of New York sent an email to a law firm representing prominent Democratic political groups, asking for details on donations made by SBF and colleagues.
Similar emails were sent over to other members of the Democratic and Republican parties, including Rep Hakeem Jeffries.
A prosecutor in the United States attorney's office for the Southern District of New York sent an email to a law firm representing some of the biggest Democratic political organizations. The email sought information about donations from Mr. Bankman-Fried, his colleagues and companies, according to people familiar with the request, who insisted on anonymity to discuss an ongoing law enforcement matter.
The prosecutors reached out to representatives of other Democratic campaigns that received money linked to FTX, which Mr. Bankan-Fried co-founded, according to two other people familiar with the matter.
Prosecutors are also investigating donations to Republican campaigns and committees by another FTX executive who was a top financier on the right.
So far, Mr. Bankan-Fried is the only executive to face charges. Since emerging as a leading political megadonor in the months before the 2020 election, he has donated nearly $45 million, primarily to Democratic campaigns and committees that are now scrambling to distance themselves.
There has not been any suggestion that political campaigns and groups engaged in wrongdoing related to the donations they received. The Justice Department's inquiries appear to be an effort to gather evidence against Mr. Bankan-Fried and other former FTX executives, rather than against their political beneficiaries.
But the prosecutors' requests widen what has quickly become one of the biggest campaign finance scandals in years, as both Democrats and Republicans grapple with questions about their eagerness to tap into a stream of cash from "murky" organizations.
The fallout has been swift and is only growing, as lawmakers, operatives for political action committees and their lawyers try to minimize the damage.
Some politicians – including Mr. Jeffries, the incoming Democratic leader in the House, and Representative-elect Aaron Bean, a Republican from Florida – either returned donations linked to FTX or gave the money to charity after the company became embroiled in scandal.
Other groups say they are setting the cash aside for possible restitution to victims of the alleged scheme.
The indictment of Sam Bankman-Fried last week accuses him of conspiring with unnamed others to violate campaign finance laws that prohibit corporate donations to candidates' campaigns and bar donations "in the names of other persons," commonly known as straw donations.
He is also charged with wire fraud, money laundering and securities fraud related to his management of FTX and another company he co-founded, Alameda Research.
At a news conference on Tuesday, Damian Williams, the United States attorney for the Southern District of New York, called on "any person, entity or political campaign that has received stolen customer money" to "work with us to return that money to innocent victims."
Federal Election Commission regulations require political campaigns and committees to give back donations that are later determined to be illegal, even if the funds have already been spent and new money needs to be raised to pay for the refunds.
The idea behind the law "is to essentially get tainted money out of the system, even when the committees that accepted it are not at fault," said Sean J. Cooksey, and FEC commissioner.
But that could be difficult for some political campaigns and committees, because the donations were among their biggest and because such groups typically spend almost all of their cash in the run-up to major elections.
More revelations are expected as previously undisclosed donations linked to Mr. Bankman-Fried, FTX and Alameda are exposed.
For example, a Biden-allied nonprofit group called Future Forward USA Action, which is registered under a section of the tax code that does not require it to disclose its donors, received $1.65 million that was linked to FTX, according to a person familiar with the matter.
The group's PAC arm, which is required to report its donors, previously disclosed that in 2020, it received $5 million from SBF and $1 million from another former FTX executive, Nishad Singh, out of a total of more than $150 million raised ahead of that year's election.
Critics of the enormous role of big money in politics have seized on the donations as further evidence that the campaign finance regulatory landscape is riddled with loopholes that create what is essentially a pay-to-play system with only the veneer of transparency.
The DNC and the DSCC said in separate statements they were setting aside the money Bankman-Fried and his organizations donated to them, and intended to return it "as soon as we receive proper direction in the legal proceedings."
This could be easier said than done, however. House Majority PAC, for example, is a leading super PAC that supports Democrat House candidates. They received $6 million from Mr. Bankman-Fried, but the group ended last month with less than $500,000 in the bank.
Karl J. Sandstorm, a former member of the Federal Elections Committee, said the FTX case had the potential to be "the largest corporate conduit case we have had."
Mr. Sandstorm advises Democratic campaigns and committees for the law firm Perkins Coie. He said he was advising clients to put money in escrow matching the amounts they received from Mr. Bankman-Fried.
Mr. Sandstorm said he had not received any inquiries from the Justice Department "yet."
Nigeria Set To Pass New Bill Recognizing Bitcoin And Cryptocurrencies
According to local media reports, the Nigerian government is planning to pass a law (the Investments and Securities Act 2007 [Amendment] Bill) that will recognize the usage of Bitcoin and other cryptocurrencies "as capital for investment."
According to House of Representatives Committee on Capital Markets Chairman Babangida Ibrahim, the recognition of digital assets is a means to keep up to date with "global practices."
Interestingly, the move comes almost 24 months after Nigeria banned crypto activity in February 2021.
Chairman Ibrahim stated,
"It is not about [the] lifting of the ban, we are looking at the legality: what is legal and what is within the framework of our operations in Nigeria. When cryptocurrency was initially banned in Nigeria, the CBN discovered that most of these investors don't even use local accounts. So, they are not within the jurisdiction of the CBN. Because they are not using local accounts, there is no way the CBN can check them."
In addition to the assignment of legal recognition to Bitcoin and other cryptos, the law will outline the regulatory roles of the Central Bank of Nigeria and Nigeria's Securities Exchange Commission on matters relating to digital currencies.
The law also comes as Nigerians have also shown little to no interest in Nigeria's central bank digital currency, the eNaira, which had only obtained a 0.5% adoption rate in October, 12 months after its launch.
The Nigerian government's efforts to crack down on crypto activity earlier on were arguably ineffective too, as adoption continued to increase following the ban in February 2021.
From January to August last year, Nigerians only trailed the US in Bitcoin trading volume, and over the same period, Nigerians were more likely to google "Bitcoin" than citizens of any other country.
Nigerian residents were also found to be the most crypto-curious nation, according to an April research study conducted by CoinGecko.
The curiosity comes as no surprise, as Nigerians continue to look to fight off rampant inflation and economic malaise.
Nigeria also recently entered into early-stage discussions with cryptocurrency exchange Binance in September to develop a crypto-friendly economic zone that will aim to support crypto and blockchain-related businesses in the region.
US Senate Banking Chair Floats Possibility of Banning Crypto
On Sunday, during NBC's "Meet the Press," U.S. Banking Committee Chairman Sherrod Brown suggested that the Securities Exchange Commission (SEC) and the Commodity Futures Trading Commission (CFTC) should consider banning cryptocurrencies.
Although he quickly added that such a ban would be difficult to enforce "because it would go offshore, and who knows how that would work."
He also argued that crypto is "dangerous" and a "threat to national security," citing North Korean cybercriminal activity, drug trafficking, human trafficking and the financing of terrorism as some of the problems it has "helped proliferate."
Brown cited FTX's shock collapse as an example of why a ban may be worth considering – but added it "is only one huge part of this problem."
The Banking Committee chairman has expressed his skepticism toward crypto for over a year now, having most recently voiced concerns on the matters of stablecoin issuance as well as cryptocurrency advertising and marketing campaigns.
Not all of Senator Brown's peers seem to share his thoughts, however.
Senator Tom Emmer stated on November 23 that FTX's fall wasn't a "crypto failure" but rather a failure caused by centralized actors.
Emmer also holds the view that crippling regulation would stifle industry innovation in the U.S., causing it to lose its position of global market dominance – something that many believe to be already unfolding.
It should also be noted that the incoming chairman of the House Committee on Financial Service, Patrick McHenry, is pro-crypto. This week he called for a delay on crypto tax changes in order to seek more clarification on the original, "poorly drafted" tax provision.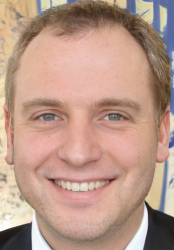 Latest posts by Luke Baldwin
(see all)