Check out the biggest breaking crypto market updates for today:
 Elon Musk Renews Bid for Twitter As He Looks To Avoid Trial
According to recent filings, Elon Musk has offered to move forward with the deal to buy Twitter Inc. at the originally agreed-upon price of $44 billion, or $54.20 per share. However, this is subject to a 'stay' being granted on the pending case between the parties before the Delaware Chancery Court.
A letter sent by Musk's lawyers to Twitter's lawyers, which was also filed with the U.S. Securities and Exchange Commission (SEC) reads:
"The Musk parties provide this notice without admission of liability and without waiver of or prejudice to any of their rights, including their right to assert the defenses and counterclaims pending in the action."
This is the first indication in a while that Elon Musk has given saying he wants to move forward with the acquisition.
However, that's only if the Delaware Chancery Court stays the Twitter vs. Musk case, and adjourns the pending trial and all other legal proceedings related to closing the deal, according to the letter from Musk's lawyers.
The social media company sued Musk in July for backing out of the agreement to buy Twitter for $44 billion.
Musk's original argument for terminating the merger was that Twitter allegedly had lied about the number of bots, or fake accounts, on the platform. He later amended his complaint to include claims from a Twitter whistleblower that the company misled regulators about its efforts to reduce spam and protect Twitter from security threats.
Now, Musk, the billionaire behind Tesla and SpaceX, wants to proceed with the terms of the deal first put forward on April 25.
Twitter said the intention now is for the deal to close at $54.20 per share. "We received the letter from the Musk parties which they have filed with the SEC," the company said.
In his first tweet since news of the revived bid broke, Musk said "Buying Twitter is an accelerant to creating X, the everything app."
"X Holdings" is also the holding company mentioned in Musk's lawyer's letter on the Twitter purchase.
In March of this year, Musk first began tweeting statements critical of Twitter, polling his followers on whether the company adhered to the principle that "free speech is essential to a functioning democracy." Musk's bid for Twitter became official on April 25.
Musk also tweeted his intentions to open-source the Twitter code for full transparency into how the Twitter algorithm might be manipulating what users see. He also stated his intention to remove spam bots and "authenticate all real humans."
Musk also proposed securing tweets using blockchain technology so they can't be deleted, and using end-to-end encryption in messaging.
He also wants to implement a feature where every tweet costs a small amount of Dogecoin to post (0.1 DOGE, or less than $0.01 cent), in order to prevent bots from posting.
When asked what Musk would do about the platform's permanent ban on President Donald Trump, Musk said, "I guess the answer is I would reverse the permaban."
European Parliament Members Vote In Favor Of Crypto & Blockchain Tax Policies
The European Parliament has reportedly voted in favor of a non-binding resolution that aims to use blockchain technology to combat tax evasion and coordinate tax policies on cryptocurrencies. The resolution was drafted by member Lidia Pereira and has received votes in favor from 566 out of 705 members.
The resolution proposed that national tax administrations embrace blockchain technology "to facilitate effective tax collection" and that authorities in its 27 member states take into account a "simplified tax treatment" for cryptocurrency users who engage in infrequent or small transactions, and have national tax administrations us blockchain technology "to facilitate efficient tax collection."
For cryptocurrenc ies, the resolution called on the European Commission to assess whether converting crypto to fiat would constitute a taxable event, depending on where the transaction occurred, saying it was a "more appropriate choice."
In addition, the policy would request an administrative amendment to better exchange information in regard to taxes on crypto.
The resolution added that the parliament's member states could integrate blockchain solutions into tax programs:
"Blockchain's unique features could offer a new way to automate tax collection, limit corruption and better identify ownership of tangible and intangible assets allowing for better taxing mobile taxpayers. […] Work must be undertaken to identify the best practices of using technology to improve the analytical capacity of tax administrations."
Policymakers in the European Union have moved forward to regulate the crypto market through their Markets in Crypto-Assets framework.
The bill, first introduced to the European Commission in 2020 and adopted by the European council in 2021, aims to create a consistent regulatory framework for cryptocurrencies among EU member states. Many expect the policies to go into effect in 2024.
Blockchain Game Developer Horizon raises $40M In Series A Funding Round
According to an announcement, Horizon, the developer behind the NFT trading card game Skyweaver, has raised $40 million dollars in a Series A funding round.
The round was led by Brevan Howard Digital and Morgan Creek Digital. It also saw participation from investors such as Polygon, Bitkraft, Everyrealm, Xsolla, Initialized Capital, Ubisoft Entertainment SA and Take-Two Interactive Software among others.
The funds will reportedly be used to further develop Sequence, as well as continue to enhance and grow Skyweaver, their digital trading card game. It will also soon launch Niftyswap, a decentralized marketplace focused on Ethereum and Polygon ERC1155 NFTs.
Horizon also attracted some notable individual investors with the round, including Shopify CEO Tobias Lütke, Lolli co-founder and CEO Alex Adelman, and a pair of co-creators from notable NFT games: The Sandbox co-founder and COO Sebastien Borget and Axie Infinity co-founder and Sky Mavis COO Aleksander Larsen.
Skyweaver is a digital trading card game much like Blizzard's popular Hearthstone, albeit with the cards represented as Ethereum NFT assets that can be sold and traded–similar to rival NFT game Gods Unchained.
Horizon's title first launched in closed alpha testing in 2018, but only released into open beta earlier this year for anyone to play. In addition to publishing the game, Horizon has turned the tech behind it into Sequence, an Ethereum-based development platform and wallet for other creators to tap to create their own Web3 games and apps.
Horizon previously raised $13.3 million in seed funding, including a $5 million tranche in 2020 led by Initialized and its now-departed co-founder Alexis Ohanian. The Reddit co-founder has been an outspoken advocate for Skyweaver and NFT gaming as a whole, today tweeting that it was a "non-obvious investment" at the time.
Ubisoft and Take-Two Interactive are two of the largest video game publishers around. Ubisoft is the firm behind massive franchises like Assassin's Creed, Just Dance, and Far Cry, while Tak-Two's popular brands like Rockstar Games and 2k Games have produced smashes like Grand Theft Auto, Red Dead Redemption, and NBA 2k.
Both have also made previous moves into the Web3 space. Ubisoft has experimented with NFTs and blockchain tech for years, and more recently stepped up its efforts by releasing Tezos-based in-game NFTs for the PC game Ghost Recon Breakpoint in December 2021. The firm has also invested in and supported numerous other Web3 startups.
Take-Two, meanwhile, recently acquired mobile and casual game maker Zynga, which is currently working on NFT-driven games. In January, Take-Two CEO Strauss Zelnick specifically cited "Web3 opportunities" on the horizon, which he said the combined company would be better positioned to tackle.
Many gamers have pushed back against NFTs citing scams, speculation, and the now-diminished environmental impact of top NFT platform Ethereum. However, a large majority of the Web3 space – from developers to marketplace builders – believe that NFTs will eventually take firm hold in the video game industry because of the prospective benefits for players and creators alike.
Gaming is likely the most profitable space for NFT adoption as well. The video game industry is bigger than the music industry and movie industry combined, with the global gaming market to reach an estimated $256.97 billion dollars by 2025 and $435 billion by 2028.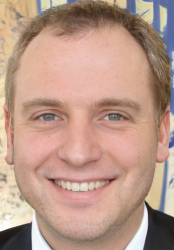 Latest posts by Luke Baldwin
(see all)