Check out the biggest breaking crypto market updates for today:
Vitalik Reveals The Next New Phase In The Ethereum Roadmap: The Scourge
In a Tweet posted on November 5th, Ethereum co-founder Vitalik Buterin added a new stage titled "The Scourge" to the Ethereum technical roadmap. The new stage seeks to improve censorship resistance and decentralization of the Ethereum network.
As per the updated roadmap, the "Scourge" will be the third stage of Ethereum's roadmap and will be followed by the previously-known stages – the Verge, the Purge, and the Splurge.
Following Ethereum's shift to a proof-of-stake (PoS) network on September 15, Ethereum has been in the second stage – the Surge – with the goal of getting to 100,000 transactions per second through rollups.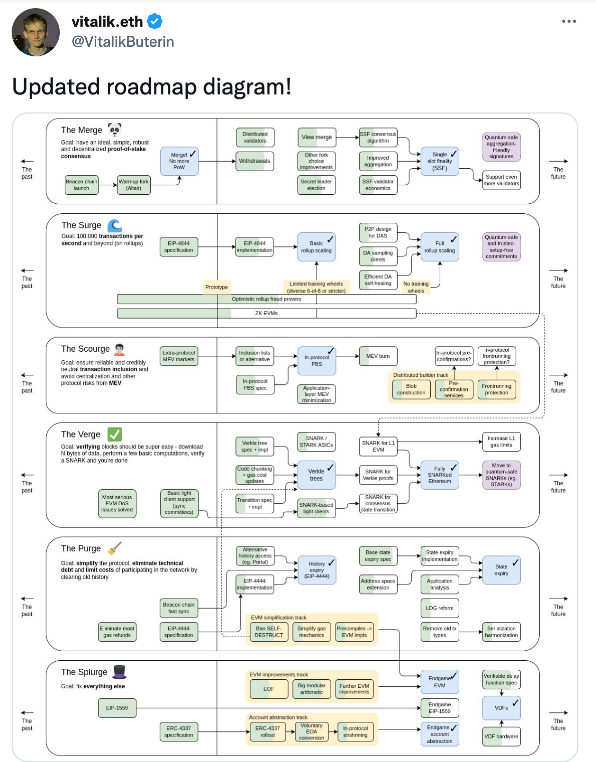 According to the Ethereum roadmap, the goal of the Scourge is to "ensure reliable and credibly neutral transition inclusion and to avoid centralization and other protocol risks from MEV."
The Ethereum co-founder's call for a more "credibly neutral" consensus layer comes as miners have been known to exploit transactions on the Ethereum network to their favor. Buterin has previously described a credibly neutral mechanism as one which "does not discriminate for or against any specific people."
Miner Extractable Value (MEV) occurs when a miner front-runs other participants in the network by deciding which transactions are to be placed in a block and in what order.
This allows miners to duplicate all winning deals from the memepool and execute their transactions ahead of arbitrage seekers or anyone attempting to make a profit.
As a result, Ethereum has become associated with a higher degree of centralization and censorship following the Merge.
Following the network's transition to PoS, the percentage of blocks compliant with the U.S. Office of Foreign Asset Control (OFAC) reached 73% on November 3rd – a figure many consider to be far too high.
Ethereum bull and founder of The Daily Gwei, Anthony Sassano, previously said in a twitter post on October 15 that censorship resistance is "more important than scaling" at the current moment.
While the full details of the Scourge have not been disclosed, the Ethereum co-founder recently proposed a "Partial Block Auction" solution where a block builder is only afforded the right to decide some of the contents of the block.
Other proposals to combat censorship at the consensus layer have been put forward – such as Ethereum research and development company Flashbots' Single Unifying Auctions for Value Expression (SUAVE) solution.
Buterin also confirmed an update to the Verge – which will now involve the integration of Succinct Non-Interactive Argument of Knowledge (SNARK) technology onto Ethereum.
The addition of SNARKs will add much-needed privacy-preserving features to the Ethereum network while still allowing for anonymous transactions to be traceable.
Buterin also noted that a "more explicit role for quantum-proofness" would be implemented at various stages of the Ethereum roadmap as a necessary component of the "endgame" protocol.
Google Cloud Announces It Is Now A Solana Validator – SOL Price Up 15%
Via their Twitter account, the cloud computing division of Google announced last weekend that it is running a validator on the Solana blockchain.
Right afterward, SOL, the native token for Solana, rose in price about 15%.
The official Twitter account of Google Cloud tagged Anatoly Yakovenko, the founder and CEO of Solana, in a tweet seemed to tease the exclusive announcement: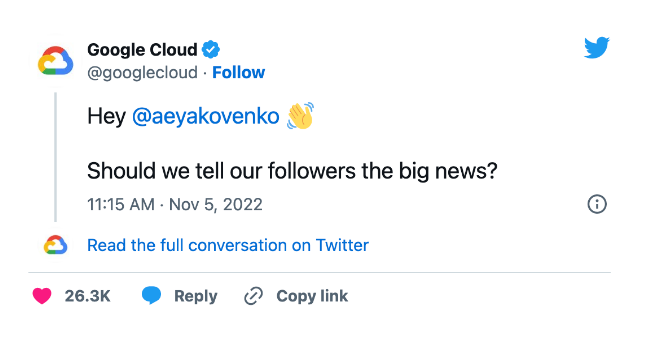 Google Cloud's following tweet said:
"Now that we got your attention… check this out: Google Cloud is running a block-producing @solana validator to participate in and validate the network."
It then announced that aside from participating and validating the network, the team also plans to bring its Blockchain Node Engine to the Solana chain next year.
The Blockchain Node Engine is a node hosting service that supports the Ethereum blockchain.
"We want to make it one-click to run a Solana node cost-effectively," Google Web3 product manager Nalin Mittal said during Solana's Breakpoint 2022 conference in Lisbon, the ecosystem's annual gathering, according to Decrypt.
Also, Google Cloud revealed that it is now indexing Solana data and including it in its BigQuery data warehouse. The feature, which will officially launch in Q3 of 2023 will reportedly "make it easier for the Solana developer ecosystem to access historical data."
Yakovenko thanked Google for adding Solana to BigQuery, calling the effort a "pretty big lift" from the search engine giant. He also said Google will be essential in building better SDKs to hasten the development of applications as well as in resolving issues concerning the storage of seed phrases.
"There's been a bunch of research done on effectively storing secrets in a way that Google doesn't even know the secrets, and you have partial recovery of the keys between the user and a service provider like Google that can verify your identity," the Solana executive said, as per the outlet.
Following the announcement, SOL traded up 15% at $38.48. As of 1:52 am ET Monday, SOL was trading down 9.13% at $32.47 with a 24-hour volume of $1,756,689,814, based on the latest data from CoinMarketCap.
Meta Is Preparing to Notify Employees Of Large-Scale Layoffs This Week
According to a report from the Wall Street Journal, social media giant Meta is preparing for "large-scale layoffs" this week that could impact many thousands of employees in a broad range of divisions across Meta's 87,000-strong workforce.
The report comes just a week after Meta reported its third-quarter earnings, which missed revenue expectations and saw a rise in its operating costs.
Meta's stock has fallen by more than 70% this year.
The planned layoffs would be the first broad head-count reductions to occur in the company's 18-year history. While smaller on a percentage basis than the cuts at Twitter Inc. this past week, which hit about half of the company's staff, the number of Meta employees expected to lose their jobs could be the largest to date at a major technology corporation in a year that has seen a tech-industry retrenchment.
A spokesman for Meta declined to comment when the Wall Street Journal asked, referring to CEO Mark Zuckerberg's recent statement that the company would "focus our investments on a small number of high-priority growth areas."
"So that means some teams will grow meaningfully, but most other teams will stay flat or shrink over the next year," he said on the company's third-quarter earnings call on October 26. "In aggregate, we expect to end 2023 as either roughly the same size, or even a slightly smaller organization than we are today."
The Wall Street Journal reported in September that Meta was planning to cut expenses by at least 10% in the coming months, in part through staff reductions.
The cuts expected to be announced this week follow several months of more targeted staffing reductions in which employees were managed out or saw their roles eliminated.
"Realistically, there are probably a bunch of people at the company who shouldn't be here," Mr. Zuckerberg told employees at a company-wide meeting at the end of June.
Meta, like other tech giants, went on a hiring spree during the pandemic as life and business shifted more online. It added more than 27,000 employees in 2020 and 2021 combined, and added a further 15,344 in the first nine months of this year – about one-fourth of that during the most recent quarter.
Meta's stock has fallen more than 70% this year. The company has highlighted deteriorating macroeconomic trends, but investors have also been spooked by its spending and threats to the company's core social-media business.
Growth for that business in many markets has stalled amid stiff competition from TikTok, and Apple Inc.'s requirement that users opt in to the tracking of their devices has curtailed the ability of social-media platforms to target ads.
Last month, investment firm Altimeter Capital said in an open letter to Zuckerberg that Meta should slash staff and scale back its "metaverse ambitions," reflecting the rising discontent among shareholders.
Meta's expenses have also risen sharply, causing its free cash flow to decline 98% in the most recent quarter.
Some of the company's spending stems from heavy investments in the additional computing power and artificial intelligence needed to further develop Reels, Meta's TikTok-like short-form video platform on Instagram, and to target ads with less data.
But much of Meta's ballooning costs stem from Mr. Zuckerberg's commitment to Reality Labs, a division of the company responsible for virtual- and augmented-reality headsets as well as the creation of the metaverse.
Mr. Zuckerberg has billed the metaverse as "a constellation of interlocking virtual worlds in which people will eventually work, play, live and shop."
The effort has cost the company $15 billion dollars since the beginning of last year. But despite investing heavily in promoting its virtual-reality platform Horizon Worlds, users have been largely unimpressed.
Last month, it was reported that visitors to Horizon Worlds had fallen over the course of the year to well under 200,000 users.
"I get that a lot of people might disagree with this investment," Zuckerberg told analysts on the company's earnings call last month before reaffirming his commitment. "I think people are going to look back on decades from now and talk about the importance of the work that was done here."
After the call, analysts downgraded their rating of Meta's stock and slashed their price targets.
"Management's road map & justification for this strategy continue to not resonate with investors," analysts at RBC Capital Markets said in a note last month.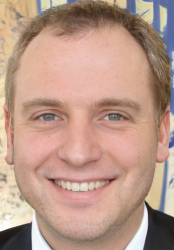 Latest posts by Luke Baldwin
(see all)