Check out the biggest breaking crypto market updates for today:
Sports Giant Fanatics Sells Off Its Majority Stake In NFT Company Candy Digital
According to an internal email obtained by CNBC, the sports apparel and memorabilia firm Fanatics is divesting its 60% stake in NFT company Candy Digital.
The firm is planning to sell its interest to an investor group led by Galaxy Digital, the crypto merchant bank led by Mike Novogratz, the other original founding shareholder.
Fanatics' CEO Michael Rubin wrote in the internal email,
"Divesting our ownership stake at this time allowed us to ensure investors were able to recoup most of their investment via cash or additional shares in Fanatics – a favorable outcome for investors, especially in an imploding NFT market that has seen precipitous drops in both transactions volumes and prices for standalone NFTs."
Candy Digital was founded in June 2021 in the middle of the sports NFT boom, competing with companies like Dapper Labs in the digital sports collectible space. One of its first efforts came out of a multiyear licensing agreement with MLB to produce nonfungible tokens, which included an exclusive Lou Gehrig NFT. It also released digital collectibles with Netflix's Stranger Things, WWE, and several Nascar teams.
However, just like the broader NFT market, sports NFTs also saw a decline amid the 'crypto winter' that has seen the value of nearly all digital assets plummet.
Dapper Labs, the company behind NBA Top Shot and NFL All Day digital trading platforms that ranked No. 9 on last year's CNBC Disruptor 50 list, laid off 22% of its company in November.
Candy Digital had raised a $100 million Series A round in October 2021, valuing it at $1.5 billion at the time. Investors in that round included SoftBank's Vision Fund 2, Insight Partners, and Pro Football Hall of Famer Peyton Manning, according to previous CNBC reporting.
It is unclear what Fanatics received for its stake in the company.
Rubin cited several factors for Fanatics' divestiture in the email, which he wrote was a "rather straightforward and easy decision for us to make for several reasons."
Ultimately, he wrote, "We believe digital products will have more value and utility when connected to physical collectibles to create the best experience for collectors."
In January 2022, Fanatics acquired Topps trading cards for roughly $500 million after also acquiring the rights to produce MLB trading cards, severing a nearly 70-year partnership between Topps and baseball's top league.
Fanatics raised $700 million in fresh capital in December, aiming to use that new money to focus on potential merger and acquisition opportunities across its collectibles, betting and gaming businesses. It also pushed the company's valuation to $31 billion.
The company, which started as an e-commerce platform selling team merchandise to sports fans, has looked to expand across the entire sports ecosystem. The company is also weighing an initial public offering, and Rubin recently met with more than 90 internet, retail and gaming analysts from various Wall Street firms, where he spoke of Fanatics' growth plans.
Celsius Founder Mashinsky Sued For Fraud By New York Attorney General
Alex Mashinsky, the founder of Celsius Network, has been sued by the attorney general of New York for defrauding hundreds of thousands of investors through his numerous "false and misleading statements" about the condition of the company.
The lawsuit alleges that Mashinsky promoted the company "as a safe alternative to banks while concealing that [it] was actually engaged in risky investment strategies."
New York Attorney-General Letitia James also states that Mashinsky had failed to register as a salesperson for Celsius and as a securities and commodities dealer under New York Law.
The NY Attorney General brought up the fact that Mashinsky made claims on multiple occasions that Celsius was a more secure place than a bank as an illustration of the false and misleading representations he made.
As a result of the Celsius collapse, several individuals in New York suffered financial losses, including a resident who invested after mortgaging two properties, a disabled veteran who lost an investment of $36,000 that had taken him nearly a decade to save, and a disabled citizen who lost his entire investment of government assistance income, according to the complaint.
Huobi Confirms 20% Layoffs, Denies Insolvency Rumors
Following Justin Sun's takeover of the company, crypto exchange Huobi has confirmed that it plans to lay off 20% of its workforce as part of its ongoing restructuring.
It also stated that the recent media allegations of its purported insolvency are untrue.
Huobi stated,
"With the current state of the bear market, a very lean team will be maintained going forward. The personnel optimisation aims to implement the brand strategy, optimize the structure, improve efficiency and return to the top three."
The news comes shortly after Sun publicly addressed rumors of Huobi's insolvency, saying that the business state of the exchange was fine and user assets were fully protected. He also promised that Huobi will "fully respect the legal demands of local employees."
As previously reported, Huobi founder and majority shareholder Leon Li sold his entire stake in the crypto exchange to Sun-linked About Capital in October 2022.
Apparently, Huobi subsequently launched its reorganization efforts as some key executives left the company soon after Sun took over the firm.
A former Huobi employee told Cointelegraph about leaving the firm a couple months ago as part of a broader transition when it was rumored that Sun was acquiring Huobi.
"From what I know, there was a management shakeup first," the former employee noted, asking to remain anonymous. According to the source, Huobi Group chief financial officer Lily Zheng left the company a couple of months ago as well.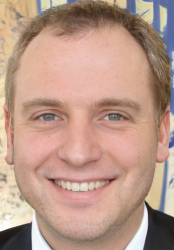 Latest posts by Luke Baldwin
(see all)