Check out the biggest breaking crypto market updates for today: 
Binance Launches 'Reliable & Secure' Oracle Network
On the 26th of October, crypto exchange giant Binance launched its new native data feed (oracle) network, called the 'Binance Oracle.' The new oracle network allows blockchain smart contracts to connect with real-world data, starting with its in-house blockchain offering, the 'BNB Chain.'
Oracles make it possible for smart contracts to access data that exists outside of a blockchain. For instance, a protocol may want its smart contract to be triggered based on stock prices, macroeconomic indicators, or even weather data.
Initially, Binance Oracle will provide index prices for the most popular digital assets.
The oracle service is slated to directly benefit over 1400 applications on the BNB chain and currently features 10 BNB chain projects that are already integrated with the service as part of its "early bird program." However, the service is reportedly chain-agnostic and is expected to support more blockchains in the future.
The initial ten projects, which have already integrated the Binance Oracle, includes some of the largest teams on the BNB chain: lending protocol Venus ($770 million total value locked, or TVL), yield farming platform Alpaca Finance ($510 million TVL), and liquid staking solution Ankr ($101 million TVL).
Gwendolyn Regina, investment director at BNB Chain stated,
"Using oracles to dramatically increase the smart contract's knowledge of what's going on outside of the blockchain, allowing it to respond to external events with specified actions will be crucial. Binance Oracle will emerge as a significant contributor to Web3 by offering a stable, reliable and efficient oracle network with comprehensive accuracy and accessibility features."
The announcement stressed security: smart algorithms will check prices for accuracy and consistency and a data monitoring architecture has been implemented.
Here is flowchart outlining how Binance has designed their oracle: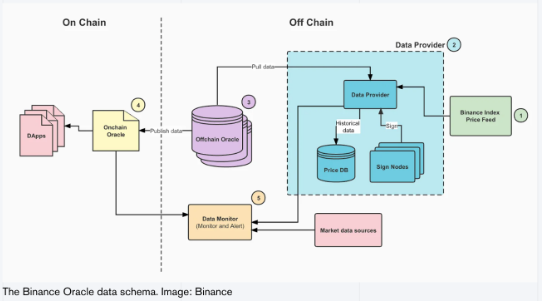 Binance said the network's recovery time objective, or its tolerance for downtime, is "nearly zero."
Even though oracles are a key part of the blockchain ecosystem, there have been a few instances recently where they were exploited in crypto hacks.
Recently, an attacker stole $100 million from the Mango Markets Solana DeFi trading platform. FTX CEO Sam Bankman-Fried blamed the design of the oracle for this. The attacker was able to take out a $100 million-dollar loan while making it look like they had more collateral than they did.
Even more recently, an attacker exploited a vulnerability in the Curve Finance price oracle pull off a $220,000 flash loan attack on decentralized exchange QuickSwap. The Polygon DEX closed its lending protocol after the attack.
Blockchain.com Launches Visa Debit Card With 1% Cash Back In Crypto
Crypto exchange blockchain.com has partnered with Visa to launch a crypto debit card that will allow users to pay using either crypto or cash balance wherever Visa debit cards are accepted.
The service is currently available only to United States residents and will feature no sign-up or annual fees, no transaction fees and users would earn 1% of all purchases back in crypto.
The waitlist for the card had 50,000 sign-ups at launch, the company said. It will be rolled out in more countries starting in 2023.
"At Visa, we believe for crypto adoption to grow, it's critical for it to be easily accepted everywhere," said Cuy Sheffield, head of Crypto at Visa. "We're excited to partner with leading crypto wallets and exchanges like blockchain.com to unlock more ways consumers can use their crypto for everyday purchases."
Other crypto companies have launched similar products, including FTX, Coinbase, and BlockFi.
Oasis Labs Partners with Equifax to Build a Web3 KYC Solution
Credit reporting company Equifax has partnered with privacy-focused cloud computing firm Oasis Labs to build a Know Your Customer (KYC) solution.
KYC requires users to submit their personal information and tax reporting requirements before purchasing any crypto – a move many in the crypto community consider a violation of privacy. Or, at the very least, a necessary evil for wider crypto adoption – since governments are hell bent on making "tax-free crypto" impossible.
Oasis Labs will leverage Equifax's identity, fraud, and compliance data to fuel its decentralized identity management and KYC solution.
While Equifax is known for suffering from one of the largest customer data breaches to date – which saw 163 million worldwide private records compromised – Oasis Labs pledges on the Web3 KYC solution's "privacy-preserving capabilities."
The announcement made no mention of the exact technology which will underpin this offering and media outlets like Cointelegraph's requests for comment were not responded to by either company.
Both firms stated they believe there hasn't been a KYC solution tailored to Web3 with "strong privacy protection" and their proposed offering is set to address this gap by issuing anonymized KYC credentials to individuals' wallets.
This credential will be continuously updated according to the announcement and Oasis pledges its "privacy-preserving capabilities" will ensure data is processed in confidence while maintaining a trail on the company's blockchain.
Web3 firms offering similar solutions based around decentralized identity are Dock and Quadrata with each offering a product built around decentralized identity.
The partnership could have some Web3 natives concerned, considering the significant data breach Equifax suffered in 2017. It was the 13th largest data breach in United States history.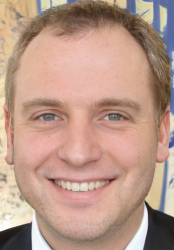 Latest posts by Luke Baldwin
(see all)