Check out the biggest breaking crypto market updates for today:
EU Commission Launches Proposal To Study Automated Monitoring Of DeFi Activity On Ethereum
The EU's European Commission, the executive arm of the EU which proposes and enforces legislation, has submitted a bid to study "embedded supervision" of DeFi protocols on the Ethereum blockchain.
This signals even greater EU regulation is on the horizon.
The study aims to investigate how financial supervisors could monitor financial activities facilitated on Ethereum in real time. The pilot program will "develop, deploy, and test" a built-in technology to supervise activities within the decentralized finance space.
Researchers will gather automated supervisory data directly from the Ethereum blockchain to monitor DeFi activity in real time.
The pilot program is expected to take fifteen months to complete and is estimated to cost €250,000 (approximately $242,500). Applications to participate remain open until December 1.
On Oct. 10, members of the European Parliament passed the Markets in Crypto Assets (MiCA) bill into law. The legislation will create a comprehensive regulatory framework for digital assets in the region, which includes providing marketing guidelines for crypto companies and protections for investors.
Portugal to Tax Crypto Gains In Next Year's Budget Plan
According to Portugal's 2023 draft budget released yesterday, the government is planning to implement a 28% tax rate on gains realized from crypto purchases held for less than a year.
So far, Portugal has held the position of being one of the most tax-friendly countries for cryptocurrency holders around the world. Portugal currently does not tax crypto gains unless they come from professional or business activities. But that's about to change.
According to the draft budget, creating new cryptocurrencies and cryptocurrency mining operations would also be considered taxable income. Additionally, the government will also impose a 10% tax on the free transfer of cryptocurrencies and a 4% rate on broker commissions charged by intermediaries for cryptocurrency transactions.
However, the budget is still subject to discussions and approval within the parliament in the coming weeks.
Portugal said their new rules are in line with crypto legislation in other European countries, including Germany, where investors pay no taxes if they hold cryptocurrencies for more than a year.
"It's a regime that fits into our tax system and also to what is being done in the rest of Europe," Secretary of State for Tax Affairs António Mandonça Mendes said at a press conference in Lisbon.
The country's lack of legislation, combined with affordable living costs and mild temperatures has attracted a growing number of digital nomads and cryptocurrency companies in recent years.

The number of foreign residents living in Portugal rose 40% over the past decade to 555,299 people in 2021, according to Portugal's National Statistics Institute. Some of these residents also benefit from a flat 20% tax on their income or a 10% tax on their pensions, according to the country's so-called non-habitual resident program.
Polygon's zkEVM Public Testnet to Enable Smoother Ethereum Migration
Ethereum scaling platform Polygon has announced the launch of its zkEVM Public Testnet.
Polygon's zkEVM scaling solution is an "Ethereum-equivalent" ecosystem with cross-compatibility to existing smart contracts, developer tools and wallets built on Ethereum and Polygon PoS.
The public testnet will allow developers to test the deployment of privacy-enhancing zk-rollups in their decentralized applications.
Leading platforms like Aave, Uniswap, Lens and gaming studio Midnight Society are among the first to deploy on the zkEVM testnet.
zkEVM stands for zero-knowledge Ethereum Virtual Machine. It's a layer-2 construction on top of Ethereum that aims to improve scalability through mass transfer processing rolled into a single transaction.

The testnet launched under Polygon's zero-knowledge R&D team as a full-featured, open-source implementation of zkEVM.
Polygon encourages Web3 developers to collaborate by deploying contracts and identifying bugs as the platform spearheads the adoption of zk technology.
In the words of Polygon co-founder Mihalio Bjelic:
"We invite the whole community to try out the testnet, help us test its limits, break things and identify bugs, so we can all together deliver the first zkEVM to the world!"
The full equivalency with the EVM will allow developers to migrate to zkEVM without the need for new programming languages and tools or translation of existing code, which also includes a completely open-sourced zk-Prover mechanism.
The announcement highlights that Polygon zkEVM offers greater capital efficiency while enabling businesses to build fast, low-fee decentralized applications on Ethereum.
Last month, on Sept. 27, Space and Time raised $20 million in strategic funding form investors like Microsoft's M12 fund – the venture capital arm of Microsoft – Avalanche, and Polygon.
The $20 million funding round saw participation from several other investors, including Coin DCX and HashKey.
Michelle Gonzalez, an executive at M12, expressed that Microsoft's VC firm is looking forward to seeing how centralized systems can be automated and connected to smart contracts.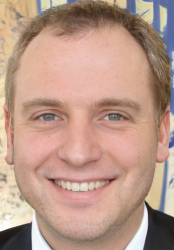 Latest posts by Luke Baldwin
(see all)