Check out the biggest breaking crypto market updates for today:
Multi-Million Euro Crypto Fraud Operation Busted In Bulgaria, Cyprus And Serbia
According to a press release by Eurojust- the European Union's cross-border agency against organized crime, authorities have dismantled a crypto fraud operation that defrauded "victims in Germany, Switzerland, Austria, Australia and Canada for at least tens of millions of euros."
The cross-border operation allegedly operated call centers from Serbia, used technological infrastructure in Bulgaria and laundered the proceeds in Cyprus. Seized assets include 150 computers, three cars, two luxury apartments, $1 million in cryptocurrencies and 50,000 euros in cash.
The operation involved attracting potential investors online, contacting them by phone and luring them into making small investments that made initial gains. Victims were then encouraged to invest more money, which they subsequently lost.
The criminals operated the call centers from Serbia, using technological infrastructure in Bulgaria and laundered the proceeds in Cyprus.
Investment scams involving crypto are often popular with criminal networks because they can target victims seeking to make sizable short-term financial gains. In December, authorities in Italy and Albania busted a suspected crypto investment scam that was estimated to have netted 15 million euros ($16 million).
Miss Universe Contestant Represents El Salvador With Giant Bitcoin Staff
Last Wednesday night, actress and model Alejandra Guajardo represented El Salvador at Miss Universe 71 with a Bitcoin-themed outfit during the pageant's National Costume Show.
Her currency ensemble, designed by artist Francisco Guerrero, shows Guajardo walking gracefully with a giant colón (one of the country's accepted currencies until 2001) strapped to her back, adorned with cocoa beans. She also carries a staff topped with a large physical Bitcoin in her right hand:
The Miss Universe announcer stated,
"This look represents El Salvador's history of currency. For a long time, cocoa was used, and the colón, until it was replaced by the U.S. dollar. In 2021, El Salvador became the first country in the world to use Bitcoin as legal tender. You don't need a sash to walk around dressed as cash."
El Salvador's move to make Bitcoin legal tender in 2021 was largely met with skepticism and concern from the global community, including the International Monetary Fund and World Bank. U.S. legislators also raised alarms that El Salvedor's Bitcoin agenda could cause financial instability in the nation and weaken U.S. sanctions policies.
Although Bitcoin's price has fallen over 50% since the law took effect, El Salvador President Nayib Bukele has remained a passionate supporter of the digital currency. He's been involved in promoting numerous BTC adoption initiatives – though it's unclear if he had any direct role in Guajardo's choice in wardrobe for the pageant.
The model's costume at last year's pageant was dedicated to calling for justice against women murdered in El Salvador. Bukele began arresting civilians en masse in 2022 in an effort to combat the country's related crime wave. El Salvador's murder rate has since declined by 56%, according to the Bukele government's own figures.
Meanwhile, El Savador passed its Digital Securities Law on Wednesday, providing a framework for strict consumer protections in the broader crypto market while "establishing that we are open for business to all those who wish to build the future with us on Bitcoin," per the country's National Bitcoin Office.
It also paves the way for El Salvador's so-called Volcano bonds – a $1 billion bond issuance plan that will invest proceeds into both buying Bitcoin and building out its geothermal-powered "Bitcoin City."
Polygon Eyeing Hard Fork Jan 17th To Address Reorgs And Gas Fee Spikes
According to a blog post published on Ethereum scaling solution Polygon's website, a hard fork software upgrade to Polygon's PoS blockchain has been proposed to address gas spikes and enhance the security of blocks on the sidechain network.
The proposed date for the hard fork is currently January 17th.
There are two major changes being proposed in the hard fork. The first one involves reducing the amount of time it takes to finalize a block to verify successful transactions. This aims to address its problem of relatively frequent reorgs.
The second change involves an adjustment to how it sets gas fees. It aims to reduce gas spikes by bringing them more in line with the way Ethereum gas dynamics work currently.
The upgrade is part of a broader initiative to improve the technical capabilities of the Polygon side chain, including parallelization and Polygon zkEVM. Polygon PoS runs parallel to Ethereum and hosts some of the biggest Web3 projects like Uniswap and Aave as well as major companies like Robinhood, Adobe and Stripe.
Preventing Reorgs
A chain reorganization, also known as a "reorg," occurs when a new version of the blockchain is temporarily created by diverging from the previous version.
The Polygon PoS chain is prone to reorgs, when blocks may overwrite previous ones due to different nodes reaching consensus at different times. This can lead to confusion when trying to verify if a transaction has been completed successfully or not.
To address this issue, developers plan to implement measures to help reduce the amount of time it takes for block finality with regards to verifying successful transactions.
The upgrade proposes to decrease the sprint length that will lower the chances of a secondary or tertiary validator kicking in to produce blocks, resulting in fewer reorgs overall.
In the context of the Polygon PoS chain, a sprint length refers to the number of blocks that a validator can produce consecutively. By reducing the sprint length to 16 blocks from 64, it means that a single block producer will be able to produce blocks continuously for a shorter period of time (approximately 32 seconds, as opposed to the current 128 seconds), which developers said should reduce reorgs on the chain.
Reducing gas spikes
The upgrade will reduce the severity of gas spikes by changing the "BaseFeeChangeDenominator" to 16 from 8 to smooth out the rate of change of the base fee. BaseFeeChangeDenominator is a parameter that inversely determines the rate at which the base fee for a transaction changes, depending on the current demand for block space.
The current value of BaseFeeChangeDenominator on Polygon is 8, and the proposal is to change it to 16. The goal of this change is to smooth out the rate of change of the base fee, reducing severe fluctuations in gas prices during high demand periods on the Polygon network.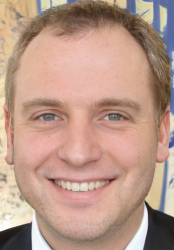 Latest posts by Luke Baldwin
(see all)