Check out the biggest breaking crypto market updates for today:
Bahamian Securities Regulator Slams New FTX CEO Over 'Misstatements
The Securities Commission of Bahamas (SCB) has slammed FTX's new CEO John J. Ray III for his statements regarding the ongoing investigation into FTX.
Specifically, the SCB stated that Ray was attempting to "advance questionable agendas" after he made allegations that Bahamian officials were working with former CEO Sam Bankman-Fried to shelter FTX's assets from the U.S. bankruptcy process.
The SCB issued a statement which reads,
"Mr. Ray has referred to redacted email correspondence by and between Mr. Bankman-Fried and Bahamian officials. Those redactions were designed to create a false impression of communications between Mr. Bankman-Fried and the Commission. These redactions are disturbing as Mr. Ray is aware that the full email reveals Mr. Bankman-Fried's acknowledgement that he had "not briefed the Securities Commission […] Mr. Ray has not once reached out to the Securities Commission to discuss any of his concerns before airing them publicly […] Every action taken by the Securities Commission of The Bahamas was in strict accordance with our country's legislation and with orders made by the Supreme Court of The Bahamas."
The Bahaman regulator didn't directly point to the exact statement of John J. Ray III it has issues with, but addressed recent reports that the Bahamas' government has asked former CEO Sam Bankman-Fried to create a new multi-million token and hand over control to them.
The report also alleged Bahamas officials tried to help Bankman-Fried regain access to key computer systems of FTX. According to United States lawyers, Bahamas officials were "responsible for directing unauthorized access" to FTX systems in order to take over control of digital assets under the supervision of a U.S. court.
The securities regulator requested Ray and his representatives to not "obstruct the investigation" and accused the CEO of not clearing his concerns with the commission first before airing them publicly.
Bankman-Fried was arrested late on December 12 by the Bahamas authorities at the request of the U.S. government. A day later, the U.S. Securities and Exchange Commission and the Commodity Futures Trading Commission charged Bankan Fried with defrauding U.S. investors.
Canadian Regulator Tightens Grip on Crypto Trading Platforms – Bans Crypto Leverage And Margin Trading
According to a statement from the Canadian Securities Administrators (CSA), the council of Canada's provincial and territorial securities regulators is enforcing stricter requirements for crypto firms following the collapse of the FTX crypto exchange last month.
All crypto trading firms operating in Canada will have to comply with the newly expanded terms – which include separating client and proprietary business assets, ensuring client assets are held with an "appropriate custodian," and prohibiting offering margin or leverage for Canadian users.
Platforms outside of Canada that offer services to Canadians will fall under the same requirements.
The CSA required crypto firms to commit to acquiring registration in August by obtaining a pre-registration undertaking (PRU) license. This meant the same requirements applied as registered platforms.
Now, the CSA is not cutting any slack. If a platform does not show a PRU to its regulator, the CSA "will consider all applicable regulatory options to bring the platform into compliance with securities law, including enforcement action," the statement said.
A deadline will be issued soon.
The watchdog also noted that it regards stablecoins as "securities and/or derivatives," which are prohibited. Canadian traders cannot trade or be exposed to such crypto assets on registered or pre-registered platforms.
Sam Bankman-Fried's Bid For Bail Denied By Bahamas Judge
Bahamian Chief Magistrate Joyann Ferguson-Pratt has reportedly denied former FTX CEO Sam Bankman-Fried's bail application and remanded him to the Department of Corrections. Citing SBF's medical needs, his attorney had proposed that his client pay $250,000 cash and wear an ankle bracelet to be allowed to leave his cell.
However, the judge stated,
"Risk of flight is so great that Samuel Bankman-Fried ought to be remanded in custody. I am not satisfied that there is any condition that I could place in Samuel Bankman-Fried to sufficiently satisfy, because of his access to substantial finances, that he would not and could not abscond."
An extradition hearing for Bankman-Fried was set for February 8. Earlier in the arraignment proceedings on Tuesday, his lawyer said that he would fight plans to send him to the US.
Federal prosecutors in Manhattan have charged Bankman-Fried with eight criminal counts – including conspiracy and wire fraud – for misusing billions of dollars in customers' funds before last month's spectacular collapse of his cryptocurrency empire.
Dressed in a blue suit and white shirt for the arraignment proceedings, SBF at times appeared shaky and fidgety. His parents were present in the courtroom.
Bankman-Fried's need to take medications for ADHD and allergies frequently came up during the proceedings, which spanned most of Tuesday. At one point, the hearing was halted so he could take them because he missed doses following his arrest the night before.
After the judge announced that his bail would be denied, Bankman-Fried was allowed 15 minutes with his parents before he was taken away by authorities.
A court clerk said after the hearing that Bankman-Fried wouldn't be allowed regular visits due to Covid protocols.
The judge said that Bankman-Fried would be taken to the Bahamas Department of Correctional Services facility, which is known commonly as Fox Hill and is the government's only prison.
Although it's unclear whether Bankman-Fried will be held among the general population, a 2020 report from the US State Department painted a grim picture of the place. The facility's conditions were harsh due to overcrowding and poor ventilation, among other issues.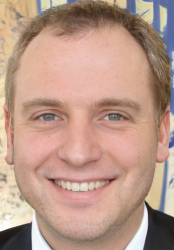 Latest posts by Luke Baldwin
(see all)