Check out the biggest breaking crypto market updates for today:
Bank Of England Opens Applications For 'Proof Of Concept' CBDC Wallet
The Bank of England (BOE) is reportedly seeking a "proof of concept" for a wallet that will be able to hold a central bank digital currency (CBDC). BOE will accept applications through Dec 23.
Key deliverables include a wallet mobile app for both Android and iOS, a wallet website, an example merchant website and a back-end server.
The central bank is budgeting nearly $255,000 to develop a central bank digital currency sample wallet that could execute basic features such as transactions and payment requests.
Simple guidelines for what the proof-of-concept wallet would have to achieve were outlined in the BOE's Dec 9th request for applications on the United Kingdom government's Digital Marketplace, a service where government organizations can solicit work for digital projects.
The wallet seemingly only needs to offer basic functionality such as a signup process, a way to update details, and to display balances, transactions and notifications.
THe wallet, of course, also has to demonstrate it can be loaded and unloaded with a CBDC, along with being able to request peer-to-peer payments through an account ID or QR code.
It must also be able to be used to pay businesses online.
Key deliverables for the project are creating a mobile app for iOS and Android, a website for the wallet, an example merchant website and the back-end infrastructure to serve the wallet website and apps while also storing user data and transaction history.
"No work has been done" on a CBDC sample wallet, the bank said, and it "will not develop a user wallet itself."
The stated aims of the project are to "explore the end-to-end user journey" as the BOE seeks to "sharpen functional requirements for both the Bank and private sector" along with making the CBDC product "more tangible for internal and external stakeholders."
The proof-of-concept is expected to last five months, with the BOE slated to evaluate five suppliers. At this time of writing, there have been no applications from private companies to develop the CBDC proof-of-concept yet.
The BOE has previously stated it is seeking to potentially launch a CBDC by 2030.
The sample wallet is supportive of the BOE's work as part of Project Rosalind, a joint experiment it's carrying out with the Bank of International Settlements Innovation Hub aimed at creating prototypes of an application programming interface (API) for a CBDC.

The proof-of-concept wallet will also be test implemented with the Rosalind API.
On Dec 9, the chancellor of the Exchequer, Jeremy Hunt, shared a number of reforms to Britain's financial services sector, including consulting on proposals for the establishment of a CBDC.
Crypto Spam Bots Go Silent On Twitter As Musk Promises To Prosecute Scammers
Crypto spam bots on Twitter have drastically reduced in the past 24 hours due to Elon Musk implementing a new policy that saw IP addresses of bad actors being banned.
Musk stated that Twitter has identified a small number of people behind a large number of bot/troll accounts and the platform has shut down the IP addresses of "known bad actors."
He also added that in the case of scammers trying other methods to circumvent the IP address block, Twitter will be "shutting them down as soon as they show up" and will even "prosecute scammers anywhere on Earth."
Shibetoshi Nakamoto, the pseudonym of Billy Markus, co-creator of meme coin Dogecoin, told Musk in a Dec. 11 post, "I made a test post and instead of seeing 50 bot replies I only saw one. Much progress, very hype."
Other users also went to test Musk's latest changes. PlanB, a bitcoin analyst and investor, posted a Bitcoin chart to see how many bots would reply. At the time of writing, no responses from bots had shown up in the comments: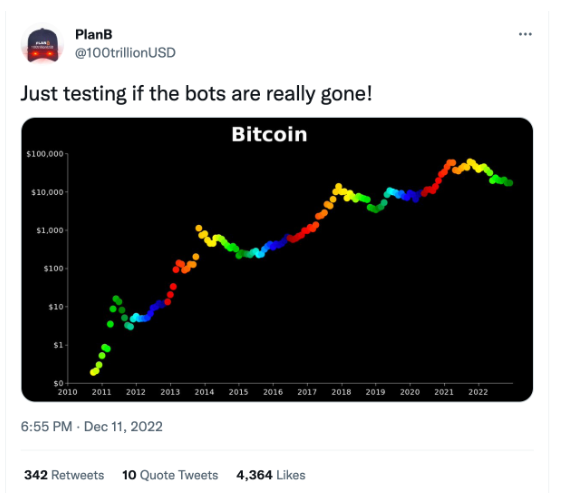 Ethereum co-founder Vitalik Buterin also noted that while "Twitter *seems* to be marginally better to use lately," he couldn't tell if there had been a reduction in bots due to Musk.
"No idea how to separate apart stuff Elon did vs crypto-winter vs my brain imagining changes that aren't actually there," he said.
Some people have reported that the bot responses still show up on posts, but are very quickly removed by the platform.
Twitter spam and scam bots have been a plague on the platform and were seen by Musk as one of his top priorities for Twitter after taking the helm in October.
In his latest post, Musk also hinted that the platform will be aiming to take legal action against scammers on Twitter in the future, though didn't offer any additional details.
"Twitter will also be moving to prosecute scammers anywhere on Earth," he said.
South Korean Authorities Say Terraform Labs CEO Do Kwon in Serbia: Report
According to reports, South Korean Authorities have received and confirmed a tip-off that Terraform Labs' controversial founder and CEO Do Kwon is now in Serbia after leaving Singapore in September.
South Korea's Ministry of Finance "is in the process of requesting cooperation from the Serbian government" as part of the investigation.
While South Korea and Serbia do not have an extradition treaty, the two countries have previously agreed to requests under the European Convention on Extradition.
They noted there is also a possibility that Kwon has already moved to a neighboring country as there is no official entry or exit record due to the invalidation of the 31-year-old entrepreneur's passport.
The Terra ecosystem imploded in May this year, with more than $40 billion of investors' wealth wiped out in a matter of weeks.
Terra's collapse accompanied a massive crypto selloff, sending the prices of Bitcoin and other top cryptocurrencies tumbling.
The crash is also believed to be partly to blame for the bankruptcies of high-profile crypto lenders Celsius and Voyager, as well as hedge fund Three Arrows Capital.
Furthermore, it prompted increased scrutiny of crypto investing and stablecoins from regulators across the world. However, most regulators seem to be ignoring the fact that your crypto is 100% safe as long as it is in cold storage and not on a centralized exchange.
The Interpol red notice issued for Do Kwon is a request to law enforcement worldwide to locate and provisionally arrest a person pending extradition, surrender, or similar legal action.
The following month, South Korean prosecutors said Kwon had traveled via Dubai to an unknown country after leaving Terraform Labs headquarters in Singapore.
Kwon had previously denied he is in hiding via Twitter, but his whereabouts remain unknown. He also denied any wrongdoing in regard to the collapse of the Terra ecosystem.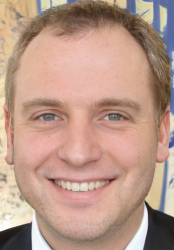 Latest posts by Luke Baldwin
(see all)