Check out the biggest breaking crypto market updates for today:
Binance's Bitcoin Reserves Are Overcollateralized, New Report Says
On the 7th, global financial audit, tax and advisory firm Mazars confirmed that crypto exchange Binance's BTC reserves are fully collateralized, following a proof-of-reserves and proof-of-liabilities verification.
Mazars stated that "Binance was 101% collateralized."
However, Francine McKenna, a lecturer in financial accounting at the Wharton School at the University of Pennsylvania, has stated that the assessment is not an official audit. She questioned the viability of the report stating,
"They did a comparison of balances per public key address from a list they got from management. They did not compare any balances in independent banks or custodians or depositories. This is more worthless than even the Tether or USDC report."
While the report from Mazars has assured customers that their BTC is collateralized, it is worth noting that Mazars has added a disclaimer stating,
"We make no representation regarding the appropriateness of the AUP. This AUP engagement is not an assurance engagement. Accordingly, we do not express an opinion or an assurance engagement. Accordingly, we do not express an opinion or an assurance conclusion. Had we performed additional procedures, other matters might have come to our attention that would have been reported.
Mazars took a snapshot of Binance's total reserves and liabilities on Nov. 22 to perform a collateralization analysis. Assets included were customers' spot, options, margin, futures, funding, loan and earn accounts for BTC and wrapped bitcoin held the Bitcoin, Ethereum, BNB Chain and Binance Smart Chain blockchains.
Decentraland Launches Virtual Property Renting For LAND Owners
Mataverse platform Decentraland has officially announced a new feature which will allow users who own virtual LAND to rent out their property to other users on the platform for fixed periods of time.
This will allow users who own LAND to essentially play the role of a landlord that earns passive income in the form of rent from their metaverse assets.
All LAND rental transactions will reportedly be paid upfront with MANA (Decentraland's native token). Additionally, during the rental period, Decentraland landlords will be unable to sell their LAND, nor can they receive any purchasing bids until after the rental contract period is over.
Similar to most rental contracts of physical properties, Decentraland landlords cannot sell the land, nor can they receive any purchasing bids for purchase until after the rental contract period is over.
Decentraland followers on Twitter suggested the same rental service should also be available for wearables. Overall the community response was positive.
This comes as the metaverse continues to evolve and pick up more attention from both inside and outside of the Web3 industry.
The word metaverse itself was up for the Oxford dictionary's word of the year but ultimately came in second place.
Legacy internet giant Mozilla recently acquired Active Replica to boost its metaverse prowess and enhance its users' digital experiences.
While the metaverse and GameFi developer Animoca confirmed rumors that it will create a billion-dollar metaverse fund for developers seeking to build out digital reality.
The metaverse, particularly mega-events such as festivals and fashion week, continues to be a gateway for new community members and developers into the greater world of Web3.
Taylor Swift Was In Talks To Sign A $100 Million Deal With FTX Prior To Its Collapse
According to reports, Pop star Taylor Swift was in the late stages of negotiating a $100 million sponsorship deal with FTX months before its liquidity crisis and bankruptcy. The discussions reportedly included a ticketing arrangement with NFTs from the record-breaking "Anti Hero" singer-songwriter.
According to sources familiar with the matter, Sam Bankman-Fried (SBF) initially favored the deal, in part because he's "a fan of Tay Tay." However, senior executives including FTX US president Brett Harrison reportedly urged SBF to drop the talks after deeming the deal to be "too expensive from the beginning."
"Very high… really f*cking high. That's front of the soccer jersey level prices." he said.
Claire Watanabe, a senior executive in FTX's company development team, was noticed by ex-employees as a driving influence behind the goal of Swift and was also a lover of her music.
Bankman-Fried was instructed to decline the talks by senior executives including Brett Harrison, who had more than a decade of knowledge at monetary companies like Jane Street and Citadel before joining FTX, and US general counsel Ryne Miller, a retired Sullivan & Cromwell partner, according to people familiar with the matter.
Skeptics also challenged whether the singer, the second-most streamed artist on Spotify this year, would catch the target demographic for would-be cryptocurrency dealers.

One former employee said some at the company "felt like [Swift] would not add value to our user base."
Another former employee said FTX had sought a "light degree of endorsement" from Swift on social media. A person close to the discussions said Swift never contemplated agreeing to endorse the exchange.
"Taylor would not, and did not, agree to an endorsement deal. The discussion was around a potential tour sponsorship that did not happen," the person said.
The ruin of negotiations meant Swift has escaped association with FTX, which filed for Chapter 11 bankruptcy in Delaware last month, owing capital to up to 1 million creditors, and indicating a billion-dollar shortfall in client acquisitions.
Bankman-Fried has accused serious management disappointments for the destruction but confronts accusations of misusing client money, which he rejects.
"Consumers have been inundated with crypto advertising, anyone that watched the superbowl knows what I mean, aimed at stirring feelings of urgency and stoking fears of missing out," US senator Amy Klobuchar said in hearings on FTX last week.
The advert Senator Klobuchar was talking about featured comedian and actor Larry David described FTX as "a safe and easy way to get into crypto". David, who portrayed a tech-skeptic in the advertisement, demurred. "I don't think so. And I'm never wrong about this stuff," he said in the ad.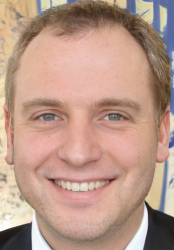 Latest posts by Luke Baldwin
(see all)